Key points:
Zilliqa's (ZIL) price has rallied 318.7% this week ahead of critical launch.
Investors who missed out on the latest rally should wait for the launch.
There might be a better opportunity to buy ZIL in future after a pullback.
The Zilliqa (ZIL) price has rallied 318.7% this week as investors eagerly await its Metaverse-as-a-Service platform powered by the Zilliqa blockchain platform, set for release on Saturday, April 2, 2022.

Investors who have missed out on this week's rally should not buy Zilliqa (ZIL) tokens now. Instead, they should wait for the launch to happen, after which we are likely to get a significant pullback, creating better entry conditions for investors and traders.
It is never a good idea to buy an asset after a massive parabolic rally like what happened with ZIL. Such rallies are usually followed by a significant pullback erasing over half of the rally's gains. Hence, presenting a better entry point for investors.
Before deciding whether you want to buy or sell Zilliqa tokens, you must look at the project's long-term prospects and its competitors. The recent rally was driven by the buzz surrounding the VIP launch of Zilliqa's Metapolis, targeted at content creators and industries such as esports, music, luxury, health and wellness.
We do not know how successful Zilliqa's Metaplois will be. Still, the company recently revealed that it had generated almost $2 million in revenues before the official launch from prospective clients, which is a good sign for the platform.
However, there are numerous metaverse projects available in the markets. Hence, you should gauge Zilliqa's project against other similar projects to see if it will succeed over the long term.
For now, the chances of a pullback are much higher than those of the rally continuing to new highs. However, there are rare occasions where a crypto's price has risen to new highs and kept rising for months, as was the case with Solana, which barely bulled back as it rallied higher for months after the launch of its smart contracts feature.
The Metaverse is a virtual universe created on the blockchain that mimics real-life civilisations. A company can create a metaverse by combining virtual reality with augmented reality and powering it via the internet.
Investors should also be aware that even large corporations such as Meta Pltaformshave announced their goals to create a metaverse that combines all their products, including Facebook, Instagram and Facebook, to create a virtual world for its clients.
Therefore, there is steep competition in the metaverse space, but Zilliqa's focus on the esports industry could give it an advantage over other players. Still, only time will tell how successful the project will be. Meanwhile, I would adopt a wait and see approach towards Zilliqa until after the launch.
*This is not investment advice. Always do your due diligence before making investment decisions.
ZIL crypto price.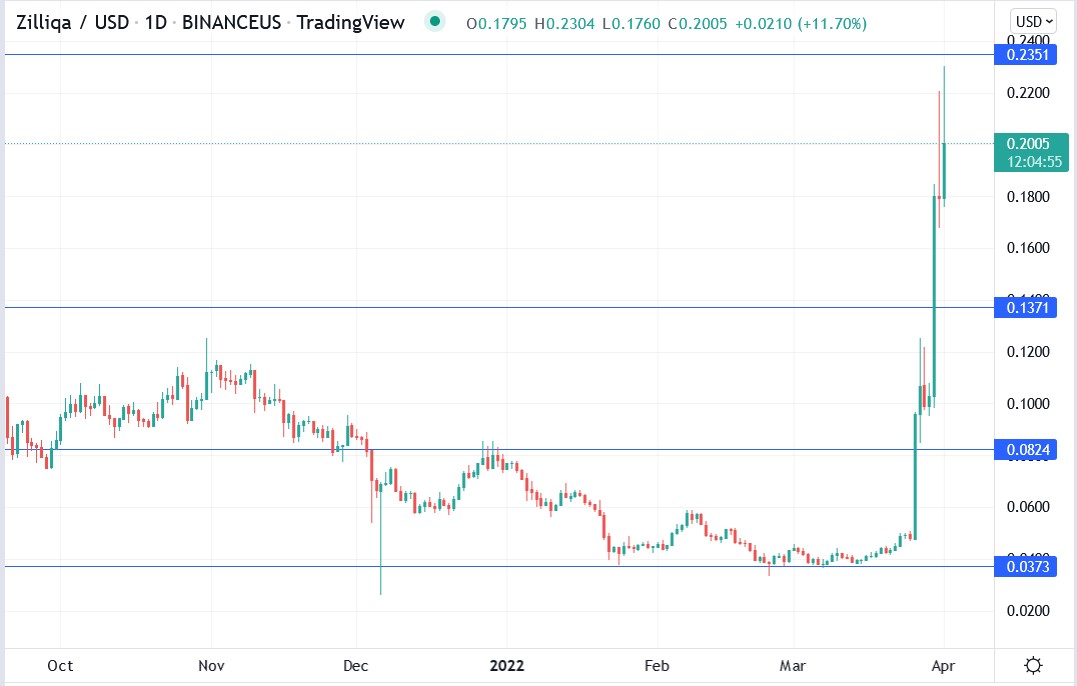 ZIL crypto's price has risen by 318.79% in one week amid Metaverse hype. Should you buy it?