Key points:
SYME shares plunged 11.1% lower on the latest share issue to Venus Capital.
The inventory monetisation company is yet to release its full-year results.
SYME shares later recouped their losses, a sign of investor confidence.
The [email protected] Capital PLC (LON: SYME) share price plunged 11.1% after the inventor monetisation company announced that it had issued the second tranche of new ordinary shares to Venus Capital, its new financial partner.
Interestingly, the decline did not last long as SYME shares quickly recovered and traded almost flat at writing. As I mentioned in my last article, [email protected] Capital has partnered with Venus Capital as it seeks to repay the loans and convertible notes owed to its long-term financier Mercator Capital.
[email protected] Capital intends to raise £7.5 million in new equity from Venus Capital to repay its outstanding loans and fund its future operations. SYME shareholders seemed okay with the decision, given that the company's shares rallied higher on the announcement.
Still, SYME has many detractors who think that its entire business will fail and that investors will lose their money. However, despite facing multiple challenges that have delayed [email protected] Capital's progress, the firm's inventory monetisation fintech model is quite viable.
The company has been making progress in partnering with other firms that could provide the capital needed to support its business. In addition, it has significantly expanded its target market to areas such as the Middle East and North Africa, and Europe as an Italian company.
Furthermore, many are worried that SYME's delay in publishing its full-year 2021 results could mean some bad news for investors. While this might be the case, we have to wait until the form publishes its annual results to know for sure.
Going back to today's announcement, SYME has issued 500 million new ordinary shares to Venus Capital at a price of 0.0005p each to raise £275,000 in gross proceeds. In addition, however, the company issued Venus Capital with one warrant for every two shares included in the tranche convertible at 0.065p each.
Investors are currently waiting for SYME's annual results to gauge its performance and prospects. SYME's shares are currently trading within a 0.06p range. A break above the range would indicate the beginning of an uptrend.
*This is not investment advice. Always do your due diligence before making investment decisions.
SYME share price.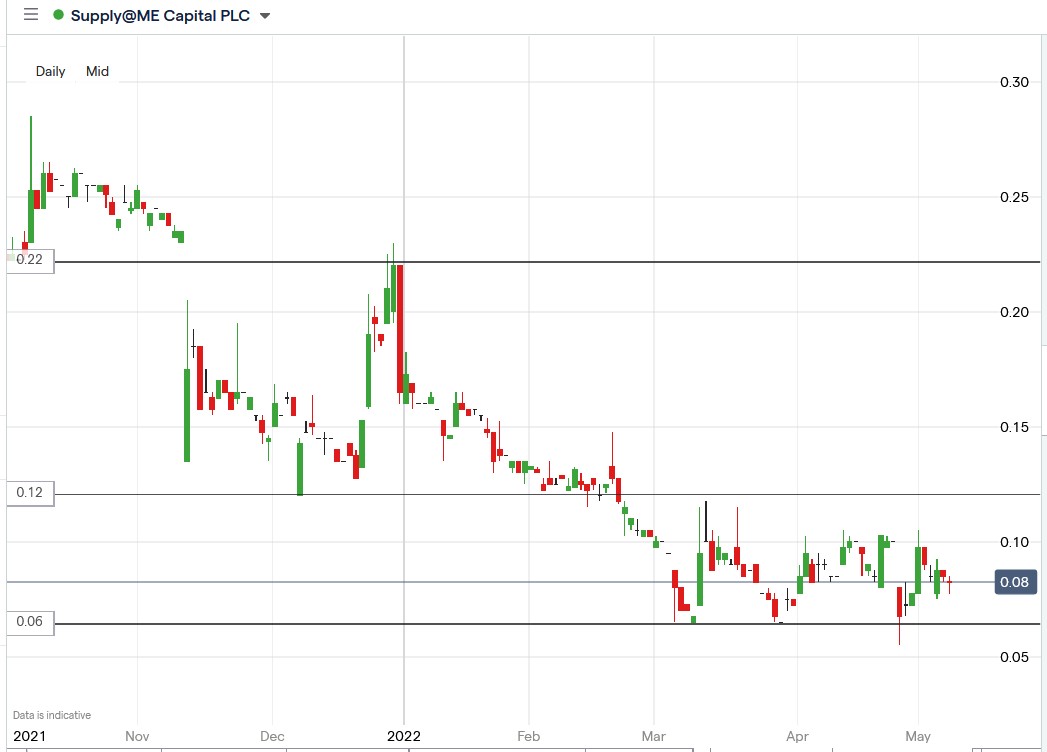 SYME shares plunged 11.11% to trade at 0.08p, falling from Monday's closing price of 0.09p.