Key points:
Cineworld shares have had a positive start to the year filling many with hope.
However, will the positive sentiment remain throughout the year?
Can the cinema operator overcome the many challenges it faces?
Read on to find out.
The Cineworld Group plc (LON: CINE) share price has risen 27.4% in 2022 amid a positive start, leaving many of its shareholders hopeful about the cinema chain operator's future.

However, should you grab some Cineworld shares since they are trading at a discount following a 44.7% decline over the past 12 months? You should first analyse the company to see if it is worth your money.
Cineworld is dealing with a few issues that could derail its progress this year, chief among them being the court case with Canadian cinema chain Cineplex, which is suing the company for pulling out of the proposed $2.3billion takeover.
The UK cinema chain scrapped the deal after the coronavirus pandemic hit in early 2020, leading to movement restrictions and the closure of its theatres in the UK, Europe and the US.
The company is fighting to undo the £722million awarded to Cineplex as damages for the deal not being finalised. Cineworld has appealed the ruling, and a win would trigger a massive surge in its share price.
However, Cineworld shares could crash to new lows if the cinema operator does not win its appeals against Cineplex. The result will be the same If it wins and the Court of Appeal awards Cineplex another huge sum after countering Cineworld's appeal.
Another significant issue affecting Cineworld is its massive debt pile that currently stands at $8.4billion (£6billion+), which surged higher due to the pandemic lockdowns that forced it to borrow heavily to remain afloat.
In a recent interview, Cineworld CEO Mooky Greidinger revealed that a more appropriate figure for its debt is $4.6 billion, excluding the lease liabilities on its cinema outlets.
On a positive note, the company has a lot going for it in a loaded slate of blockbuster movers set to be released this year, including Top Gun: Maverick, Marvel films, The Batman, and Avatar 2.
Greidinger was optimistic about the company's prospects given the massive investments in upgrading the cinema experience to draw customers to the big screen, including upgrading the screens and associated sound systems.
However, only time will tell if Cineworld can pull off its ambitious plans to weather the storm brought by the COVID-19 pandemic, return to profitability and start paying off some of its debt soon.
We cannot ignore Cineworld's positive start, which indicates positive investor sentiment towards the company, which could lead to further gains in the future.
*This is not investment advice. Always do your due diligence before making investment decisions.
Cineworld share price.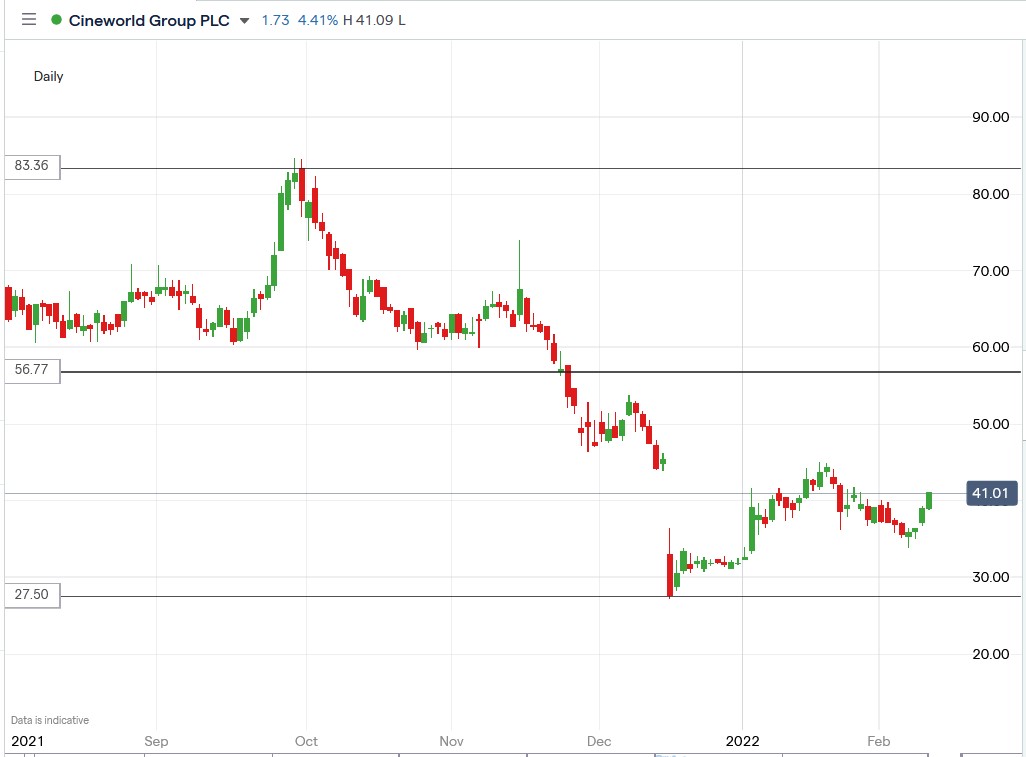 This year, Cineworld shares have risen 27.41% in a positive start, with investors hoping for further gains.