Key points:
Boohoo shares just broke below a crucial support level.
As a result, the stock could be headed lower if it does not reverse course.
Moreover, the company's story is a cautionary tale about the role of ethics.
The Boohoo Group PLC (LON: BOO) share price just broke below a significant support level, and many are wondering if the fashion retailer's share price will keep falling.

The fast-fashion retailer has seen its share price drop after institutional investors departed en masse following the sweatshop labour scandal.
The company is a cautionary tale for other firms with unethical business practices. Despite having a solid market presence, Boohoo's share price does not reflect the company's full potential and earnings.
Boohoo has a dominant position among young people due to its low prices and comprehensive collection of clothing and fashion items unmatched in the global fashion industry.
While other fashion companies fared severely after the coronavirus pandemic hit, leading to store closures and bankrupting some fashion brands, Boohoo thrived and even acquired some competitors.
Yet, the company's share price kept falling and is yet to recover from the impact of the sweatshop scandal in Leicester. As a result, the fashion company has taken significant steps to increase oversight of its suppliers while firing those who do not meet its new rules.
In my previous articles on the firm, I mentioned that it would not be long before the markets realised Boohoo's value proposition. As a result, we could see its share price reverse course and rally higher when this happens.
However, it is taking longer than expected for the company's share price to turn around, and the latest move indicates that there could be further losses if the prices do not break back above the support zone and start heading higher.
Boohoo's fortunes could change for the better if some institutional investors, such as hedge funds that have more leeway with how they allocate capital to investments, decide to back it and inject some serious money into the firm.
Most institutions are afraid to invest in Boohoo because they have to answer to their investors and explain why they are backing a company with such lousy business practices. In contrast, hundreds of other businesses have much better practices.
Boohoo's unfortunate position indicates the crucial role that ethical practices, sustainability and environmental impact will play in investors decisions about the companies they support. Most investors want to invest in companies that prioritise these crucial aspects apart from just focusing on making profits and generating impressive returns for shareholders.
*This is not investment advice. Always do your due diligence before making investment decisions.
Boohoo share price.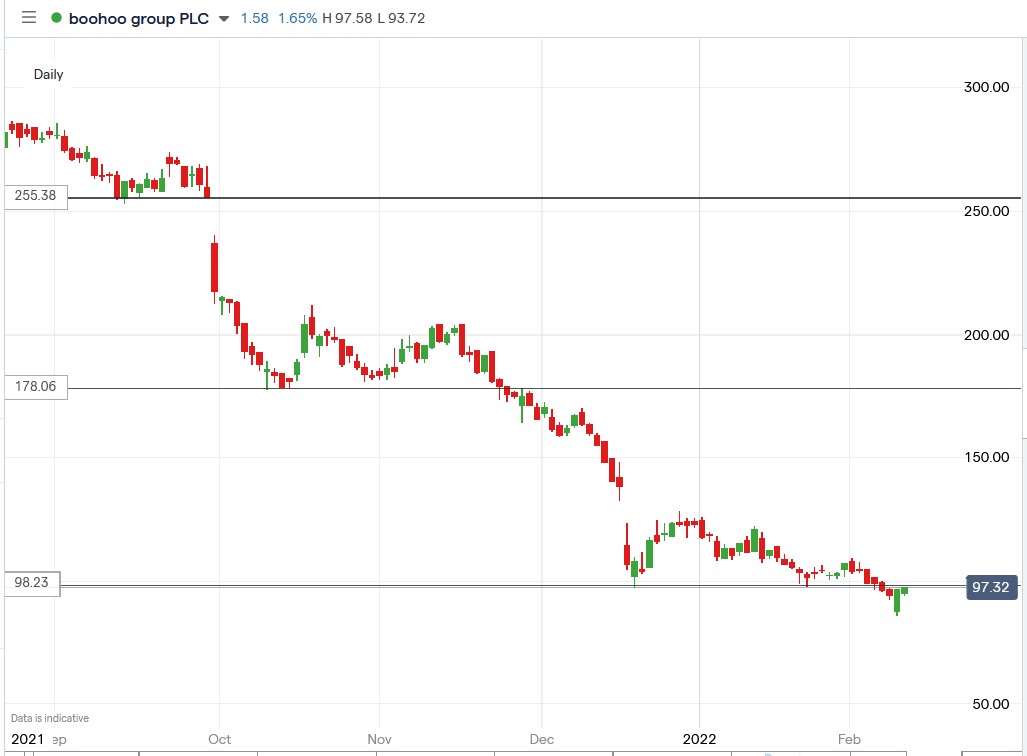 Boohoo shares have fallen 73.56% in the past 12 months and just broke below a crucial support level.