Key points:
Top Ships is up 16% again today after yesterday's 66% rise
This is the reordering of oil transport routes given sanctions etc
How much further do we think this can go?
Top Ships (NASDAQ: TOPS) is up 16% premarket following yesterday's rise of 66%. This is off the back of first half earnings which were, as you'll not be surprised to learn, good. This led to significant trade of course – at noon or so trade had reached 19 million shares rather than the more normal volume of 160k or so. Volume this morning is more restrained at 60k, but it's very early in the trading day yet.
Those first half results at Top Ships were good – net income of $8.5 million which is a 412% rise YonY. That's also the best it has done since 2005. Revenue was up at $38 million and so on – simply a good trading period. As, of course, it should be.
Top Ships is in the oil tanker business and this has been boom times for that industry. It's not so much the oil price – tanker rates and the crude oil price can move in different directions. Rather, it's the huge shift that has just taken pace in consumption geography. We're all abjuring Russian oil – or at least the Western countries are. What this means is that Russian oil that used to come west now goes east or south. And the oil that used to go east or south now comes west. We've not really seen that much of a change in oil supply or consumption, but who consumes which part of supply has changed. To the benefit, obviously, of those who transport.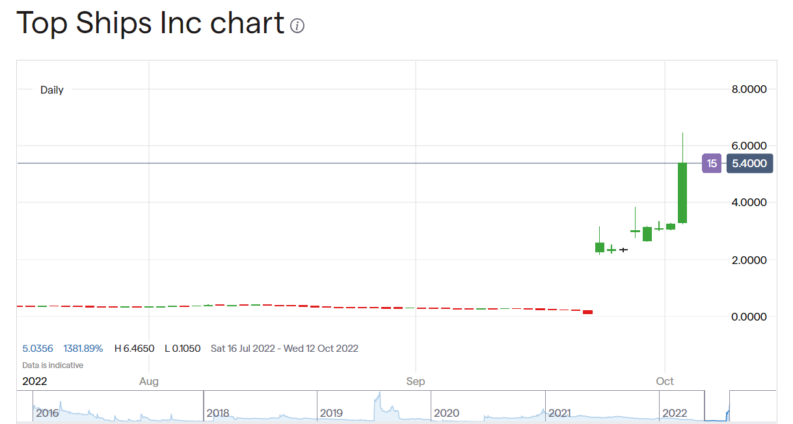 Also Read: Best Oil Stocks To Buy Right Now
As we've mentioned previously Top Ships also had a reverse stock split just recently. Strangely, this was not well received – the nett effect seems to have been to drive TOPS stock down. Which is puzzling but sometimes happens. The retention of the greater liquidity of the NASDAQ listing allows more people to sell stock perhaps.
Given the price rises in this past couple of days at Top Ships we are now into positive territory even given that fall concerning the stock consolidation. The theoretical price for TOPs, reverse stock split alone, should be around the $5 level. We're now at $6.39 (at pixel) so we're finally in positive territory.
Which then leads us to what do we think is going to happen next to TOPS? One thought is that ship rates are going to remain strong. The change in transportation routes is going to remain for some time now, at least, so the demand on the shipping fleet should remain. It takes time to build new ships so there's not much short term supply expansion possibility. That should keep rates up.
On the other hand we're all also worrying about a global recession about to descend upon us. Oil is one of those things which slumps in demand during a recession – and that affects ship rates too. Clearly and logically it does.
So, whether Top Ships is going to keep this performance up over time is really a matter of your opinion on each side – go with the microeconomics of the shipping market or the macroeconomics of the global markets?