Key points:
The USDJPY price headed higher despite yesterday's FX intervention.
However, the FX interventions may not reverse the yen's decline.
Therefore, the BoJ must change its monetary policies to stabilise the yen.
The USDJPY price edged higher today as the Japanese yen weakened against the US dollar despite yesterday's intervention by Japan's government. Today's muted price action followed yesterday's highly volatile price action, where the USDJPY pair traded in a 350 pips range.
The yen's performance yesterday was driven by confirmation that the Bank of Japan had intervened in the Forex markets buying yen for dollars to shore up their rapidly deteriorating domestic currency.
Also read: The Best Currency Pairs To Trade In The Forex Markets.
However, the question on most investors' minds is, will the Japanese government's interventions work over the long term? The short answer is no; they will not. The divergent policies have precipitated the yen's decline adopted by the Bank of Japan and other leading central banks.
Earlier this week, the US Federal Reserve raised interest rates by 0.75%, bringing its short-term lending rate to 3.25%. Yesterday, the Bank of Japan maintained its lending rate at -0.10%, making it the only leading central bank with negative interest rates.
Most analysts do not think that the BoJ's FX interventions will be enough to stem the yen's decline, with many opining that a change in the BoJ's monetary policies would significantly impact the yen.
However, the BoJ shows no signs of reversing its easy money policies and hiking interest rates to keep up with other Central Banks. As a result, the BoJ lags behind the Fed, whose rates are at 3.25%, and the ECB abandoned negative rates and raised its refinancing rate to 1.25%.
Even the Swiss National Bank has abandoned negative interest rates and now has its base rate at  0.50%, while the Reserve Bank of Australia has its cash rate at 2.35%. Therefore, it is clear that the BoJ will have to change its monetary policies to align with other leading central banks.
Otherwise, the impact of its FX interventions will be minimal at best and may lead to the depletion of its US dollar reserves, which currently stand at US$1.17 trillion.
*This is not investment advice.
The USDJPY price chart.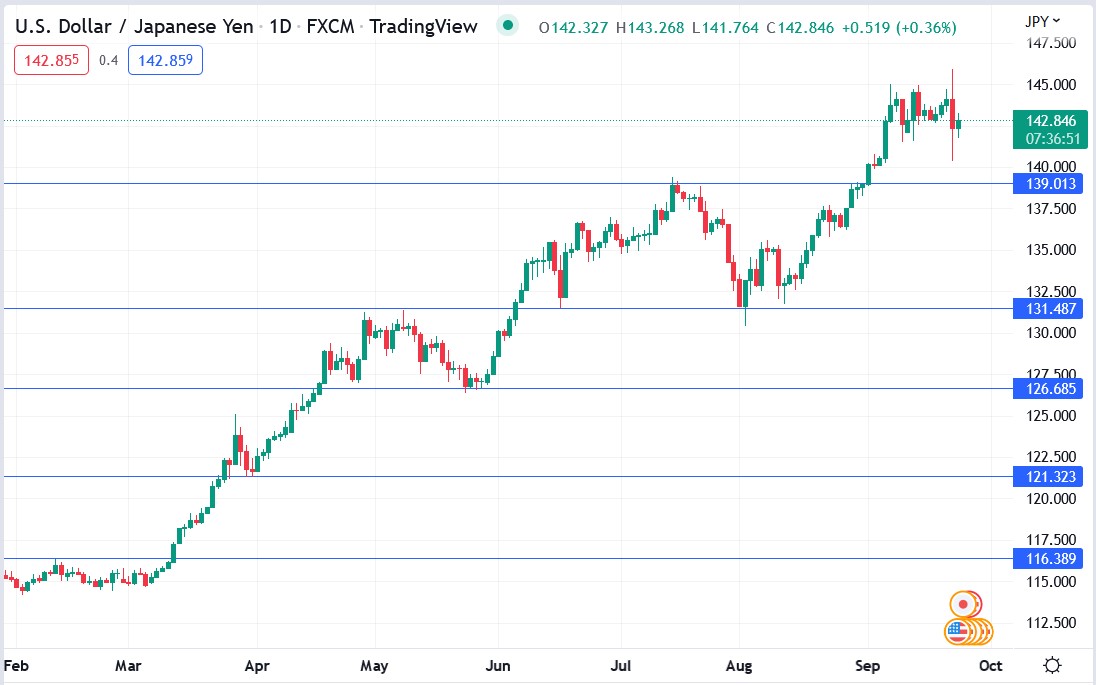 The USDJPY currency pair was trading up 55.3 pips (0.39%) at writing as the US dollar edged higher against the Japanese yen.