Key points:
Wizz Air shares edged 3.95% higher on Saudi Arabia's expansion plans.
The budget carrier will expand its services to Kingdom after signing an MoU.
The Kingdom of Saudi Arabia plans to triple air passenger arrivals by 2030.
The Wizz Air Holdings PLC (LON: WIZZ) share price edged 3.95% higher after unveiling plans to expand its operations into the Kingdom of Saudi Arabia (KSA). The low-cost airline just signed a cooperation agreement with the Ministry of Investment of the KSA to explore potential opportunities to expand the Kingdom's airline market.

The Memorandum of understanding signed between the budget airline and Saudi Arabia is part of the Saudi National Air Connectivity Programme, an initiative by the Kingdom's Ministry of Tourism.
The Kingdom has set an ambitious goal of tripling the passenger traffic arriving in the country by 2030 to boost its tourism sector, and Wizz Air could play a crucial role in achieving this lofty goal.
As a low-cost airline, Wizz Air can substantially reduce the costs of travelling to the Kingdom from its multiple bases in Europe compared to larger airlines that charge travellers more for similar flights.
Wizz Air highlighted that it operates a sustainable ultra-low-cost business model that would make it highly affordable for people from all over Europe to travel to the Kingdom of Suadi Arabia.
The budget carrier might be precisely what the Kingdom needs to boost the number of passenger arrivals to the country. The KSA wants to diversify its economy away from oil to other industries. In addition, the two parties agreed to work together to allow for potential investment and new operating models to benefit the Saudi Arabian aviation industry.
A few days ago, we covered Wizz Air's April passenger numbers which rose to 3.6 million passengers compared to April 2021, when the airline only carried 953,094 passengers. The ultra-low-cost carrier is keen to expand its fleet of aeroplanes to 500 by 2030 while growing its pilot numbers to 4,600 pilots by 2030.
Wizz Air shares recently broke below the crucial 3000p support level and are headed lower. I would wait for a break above the former support turned resistance level before buying. Another buying opportunity is near the 2500p support level if Wizz shares keep falling.
*This is not investment advice. Always do your due diligence before making investment decisions.
Wizz Air share price.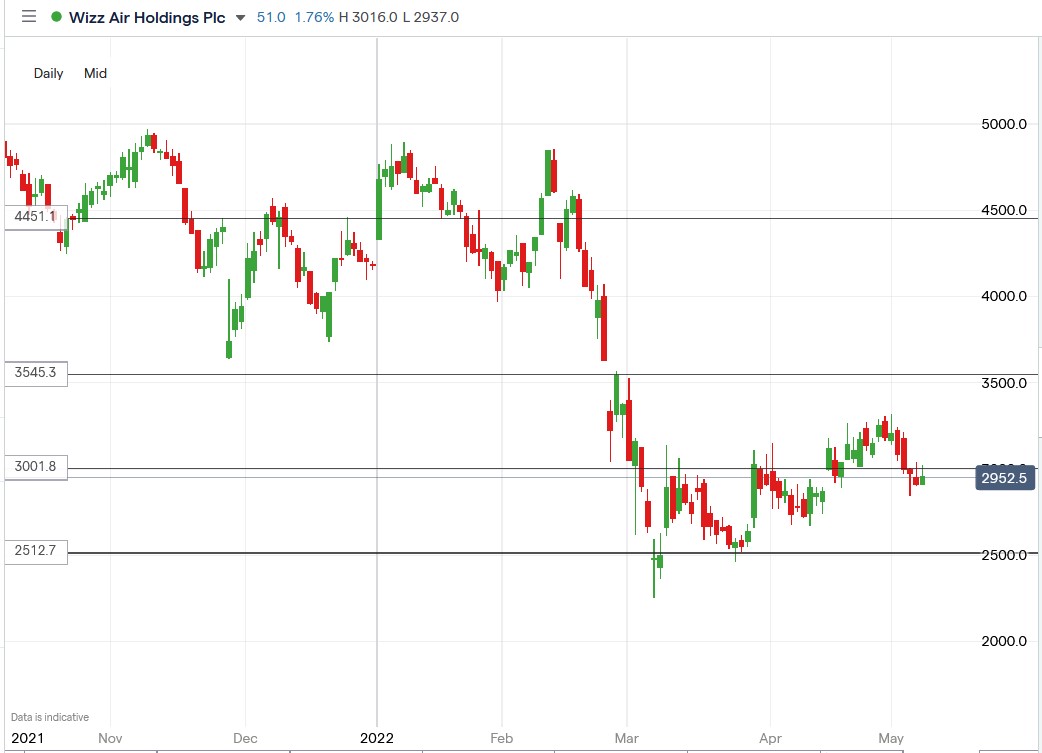 Wizz Air shares rallied 3.95% to trade at 3024p, rising from Monday's closing price of 2909p.