The share price of Barclays has suffered a long-term decline despite its more recent stability, but making a profit in the markets is not always about buying something that is already going up.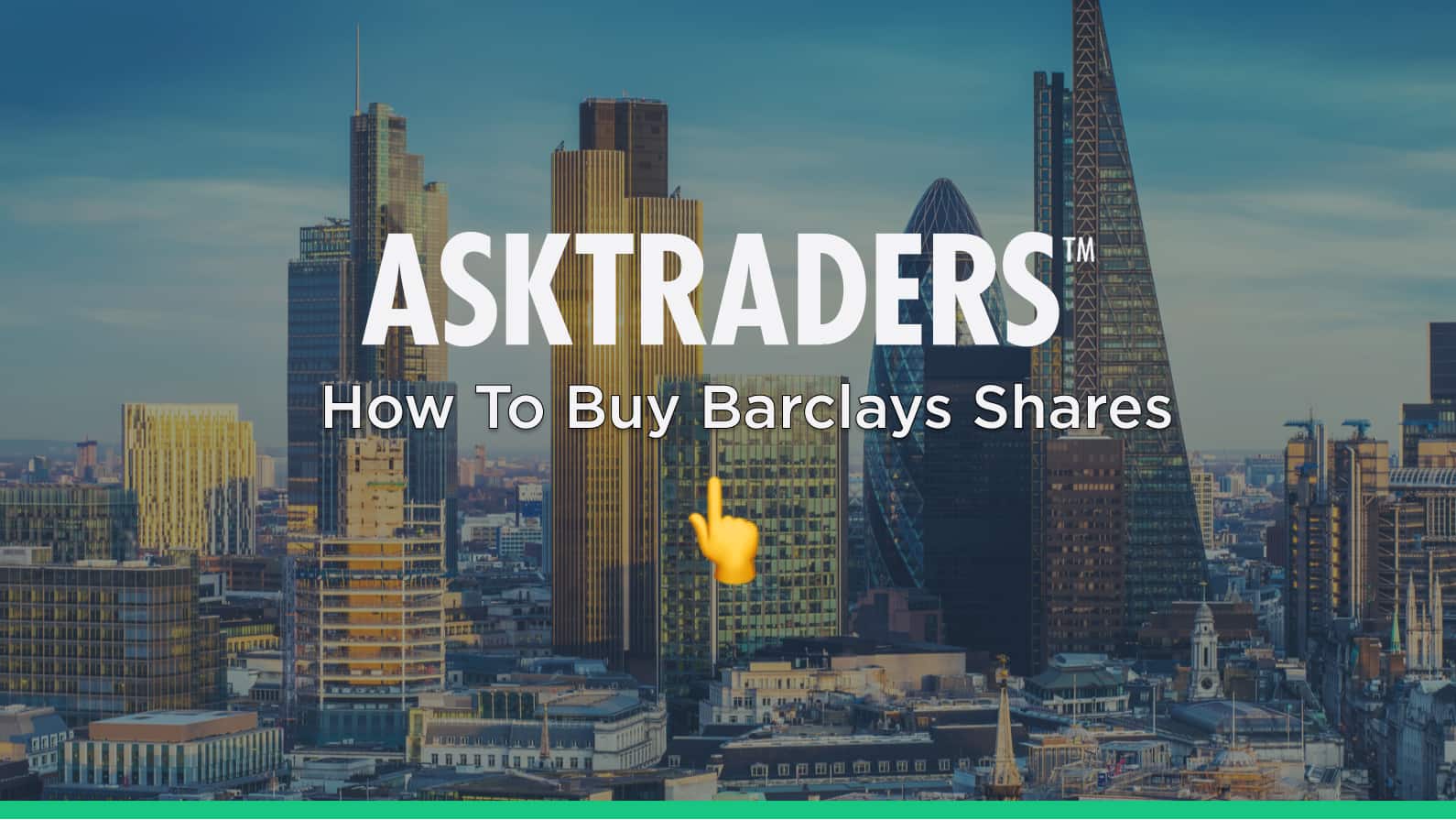 If you've been holding the stock, you're likely to be sitting on significant losses. If, on the other hand, you are new to the idea of buying Barclays shares, then the price slump could provide you with the opportunity to take advantage of bargain-basement price levels.
Since the financial crisis of 2007, shareholders in Barclays have processed a lot of bad news. However, there is always an argument that any sell-off has been overdone and that prices could be about to turn.
It's a risky trade, but if the price rallied from current levels to the all-time highs of 2007, the return would be significant.
Timing that calls right is the tricky part, but this review will outline the steps to take to line up buying Barclays shares and how to use online brokers to do so.
Overview of Barclays
Barclays Bank traces its history back to 1690, but investors looking to buy Barclays stock will find a very different business on offer.
Operating out of its London headquarters, the bank is a global player. As well as high-street banking, it also has an investment banking division. The firm is divided into four groups — personal banking, wealth management, corporate banking, and investment management.
The share price chart doesn't make very happy reading for existing shareholders. Even so, the firm's prestigious history, critical mass, and diversification into various banking sectors have meant that it fared better than some other banks.
The current Barclays chief executive, C.S. Venkatakrishnan, has been in the role since November 2021.
Barclays Shares: The Basics
Barclays PLC is a holding company. Entities operating under it are divided into two divisions, Barclays UK and Barclays International.
Barclays PLC has a primary listing on the London Stock Exchange and trades under the ISIN code GB0031348658 ticker BARC.
To satisfy international investor demand, Barclays has also set up seven more listings, found on a range of global exchanges, from Buenos Aires to Frankfurt.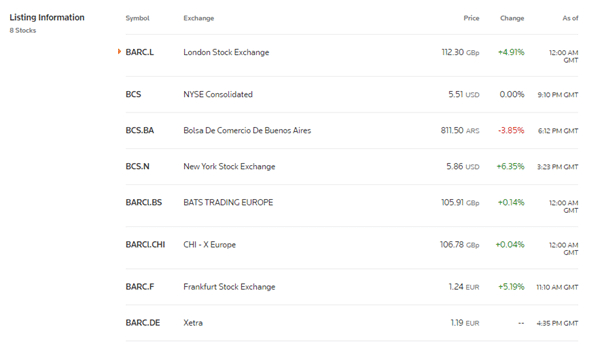 Source: Reuters
Some of the resilience shown by the Barclays share price is down to the firm's diversified business model. The group combines retail and investment banking. During the COVID pandemic of 2020, as the retail banking division struggled, the investment banking arm prospered by providing struggling corporations with loans to see them through the crisis.
The firm is traditionally a high-yield stock. Returning an above-average dividend return to investors is a surefire way to attract the attention of big institutions like pension funds.
Early in 2020, Barclays suspended the entirety of its returns to shareholders. This included 2019's final dividend payment. This was in line with a Bank of England request made to all UK banks. At the time, Barclays shares fell 5.8%, which highlights the importance of dividends to the valuation of Barclays. The dividend was reinstated in 2021.
Steps to Buy Barclays shares
Thanks to online brokers, it is now incredibly simple to buy shares in Barclays. The straightforward process involves setting up an account using a desktop or handheld device. The broker platforms have been designed to cater to beginners and have teams of customer service advisors on hand.
The two most popular ways to trade Barclays are CFDs and share dealing. Both methods offer a way of gaining exposure to BARC. In share dealing, you buy the shares outright using a buy-and-hold-style strategy. This can involve greater up-front costs but could be cheaper in the long run.
CFD trading involves setting up a contract with a broker where you pay or receive funds according to which way the BARC share price moves. CFD trading has more functionality. It's possible to use leverage and sell-short and, therefore, attract traders using short-term strategies.
If you're looking to hold your position in Barclays for longer than 4–6 weeks, then you may want to consider using the share dealing approach and buying the shares outright. A more detailed breakdown of ways to find out which format is for you can be found here.
1. Research Barclays Shares
The first step towards buying Barclays shares is to establish the why, what, when, and how. Your strategy should include entry and exit points, but that doesn't necessarily mean it needs to be complicated. Buy-and-hold and forget can be as profitable a strategy as any other.
There is lots of free research available online and at Barclays itself.
Technical analysis — If you're using short-term strategies, you might want to consider technical analysis. This is the study of historical price data and chart patterns to try to predict future price moves.
Fundamental analysis — This involves an in-depth analysis of the Barclays business model. You don't have to do all the number-crunching yourself, as some market participants, such as the brokers, are happy to work through the reports and offer a summary of the state of Barclay's prospects.
2. Find a Broker
Without a doubt, the most important aspect when choosing a broker is to use one that is regulated by a tier-1 regulator. A good place to start is looking for platforms that are licensed by the Cyprus Securities and Exchange Commission (CySec), the Financial Conduct Authority (FCA), and/or the Australian Securities and Investments Commission (ASIC).
3. Open & Fund an Account
Online registration can be completed in a matter of minutes. There are some standard questions to answer about your investment objectives and most brokers allow ID. documentation to be uploaded using a phone camera.
If you wire funds into your broker account, using a bank or credit card for funding will be almost instantaneous. There are also a variety of other payment methods available.
4. Set Order Types
The trading process is child-proof. After accessing the market for Barclays you'll be given the option to 'buy' or 'sell'. You will see a data field in which to input the amount you want to trade.
If you're trading using CFDs, you'll be able to 'sell short' Barclays shares. It is also possible to use leverage when trading CFDs.
Depending on whether you are using a desktop or handheld device, you will then be just one click, or one tap, away from putting on a trade.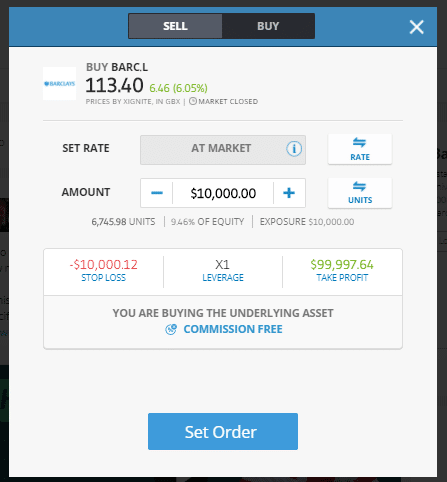 Source: eToro
This stage of the process is where you can input automated instructions to close your position at certain price levels. 'Stop-loss orders' and take-profit instructions are neat risk management tools that mean you don't have to be watching the markets all the time. They can be added at the time of the trade, or at a later stage in the trade life-cycle.
5. Select and Buy Barclays Shares
With the order details built, there is one last chance to double-check the instruction.
The final click or tap will be on a button, which, depending on your broker, will have a name like 'Place Order', 'Open Trade' or 'Place Order'. At this point, your cash account will be debited the amount of cash needed to buy the designated number of Barclays shares.

Source: eToro
The value of the holding will fluctuate in line with the market price. Monitoring the performance of your BARC holding will be possible via the 'portfolio' monitor. It will also be possible to manually close out of your position from this part of the site.
Best Brokers to Buy Barclays Shares
There are a lot of good brokers to choose from. This can actually make finding the right one for you a bit tricky. The process is made easier by the availability of free demo accounts, which allow you to practise trading virtual funds. Registration to use these can require little more than an email address, and they allow you to practise trading and assess site functionality.
Broker comparison tables such as the one found here are a useful first step.
Finding the right broker for you is perhaps the most important part of the process. While you can buy Barclays stock with most brokers on the market today, not all brokers are created equal.
Searching for the Perfect Broker?
Discover our top-recommended brokers for trading stocks, CFDs, forex, cryptos, and beyond. Dive in and test their capabilities with complimentary demo accounts.
It's worth setting up demo accounts with a few brokers to see which suits you best.
Fees When Buying Barclays Stock
The fees associated with trading and holding Barclays stock need to be factored in. They can eat away at trading profits.
A lot of brokers offer 'commission-free' trading and instead make their money on the bid-offer spread. Keeping an eye on spreads and making sure they aren't too wide is, therefore, a good move.
Daily overnight financing charges will also apply if you are trading using CFDs. Inactivity fees and bank charges on cash transfers are other risk-free costs, which can be minimised if you carry out some basic research on broker T&Cs.
Fee calculations need to factor in the likely holding period of your position. One question will be whether to trade using CFDs or Shares.
| | eToro | Plus500 | Markets.com |
| --- | --- | --- | --- |
| Inactivity Fee | Yes | Yes | Yes |
| Inactivity Fee details | $10 per month. After 12 months | $10 per month. After 3 months | $10 per month. After 3 months |
| FX Conversion | Yes – on non-base currency trades | Yes – on non-base currency trades | Yes – on non-base currency trades |
| Fund withdrawal fees | Yes – $5 | Applied on some payment methods | Yes – $5–$100 |
| Trading commissions | Included in spread | Included in spread | Included in spread |
| Overnight Financing | Yes, on CFDs | Yes, on CFDs | Yes, on CFDs |
Final Thoughts
Buying shares in Barclays could be a long-haul trade and may be good for investors who want to capitalise on its dividend payments. If your trading strategy is leaning towards buy-and-hold then it might be more cost-effective to use share dealing rather than CFDs.
The good news is that both approaches are supported by regulated online brokers who take the hard work out of the trading part of the process.