Oil giant BP is one of the biggest energy companies in the world and a stock usually on the list of many dividend-focused investors due to its strong track record.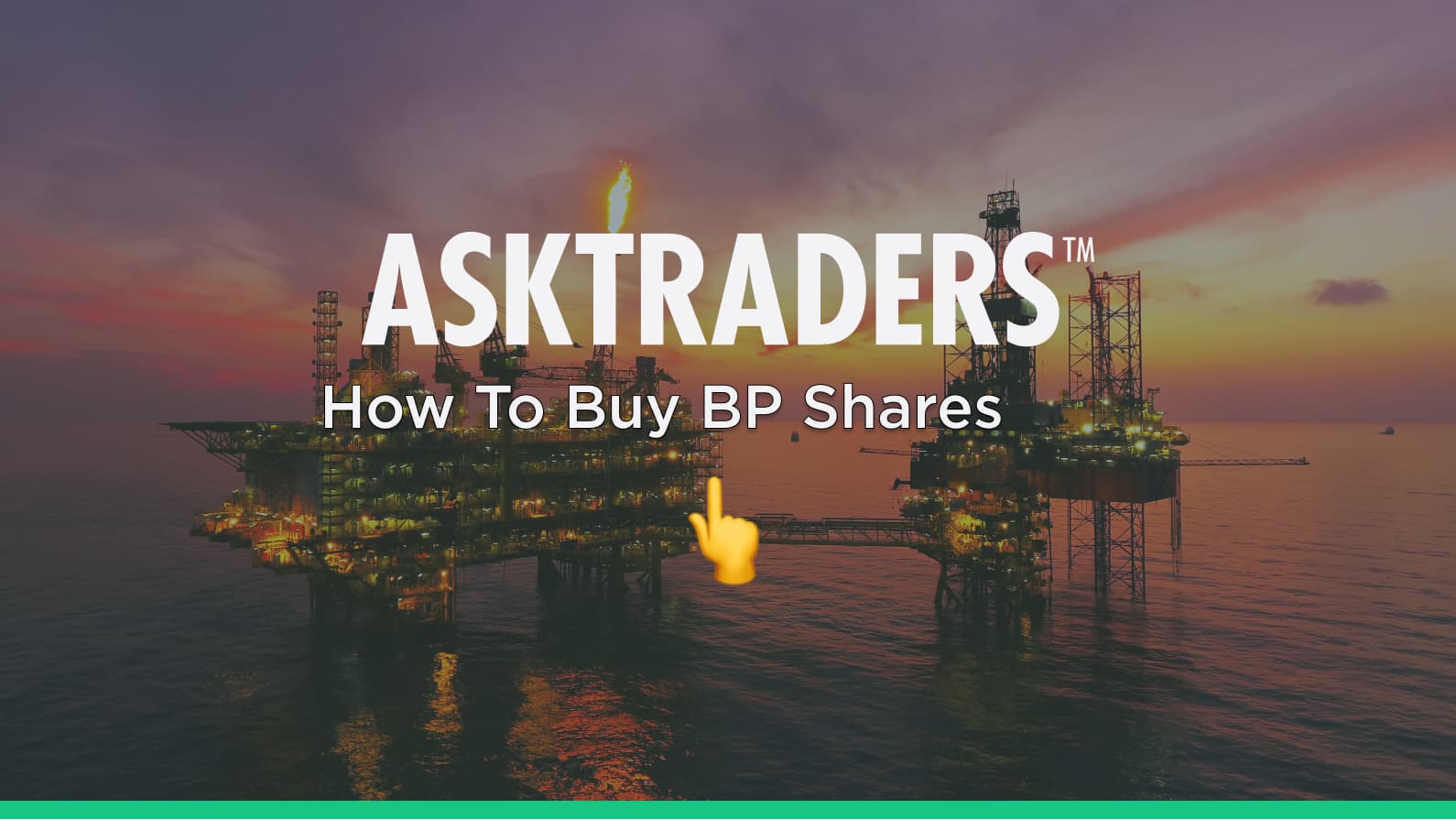 Making a profit from the markets does not always entail buying exciting new tech stocks that are already 'winners.' However, taking a position in a fundamentally strong, high-yielding stock such as BP can also generate returns. This article will outline the process of deciding if and when to buy BP shares. It will also provide a step-by-step guide on how to buy BP shares using easy-to-set-up and user-friendly online brokerage accounts.
Overview of BP
BP is a global energy company based in the UK but operating on a global scale. Its integrated energy business has operations in 79 countries in Europe, North and South America, Asia, Australasia, and Africa.
The firm's history dates back to 1908 when a group of British geologists found the first commercially viable oil supply in the Middle East. The company has well over 60,000 employees, with annual revenue in the hundreds of billions.
Oil & gas continue to be the main drivers of profit levels, so the share price is strongly correlated to the price of those commodities. As a result, the BP share price has had plenty of ups and downs over the last few years.
When the stock is in a downturn, many investors view it as an opportunity to buy into a dividend-paying stock that has a solid track record of results.
BP Shares: The Basics
The firm's primary listing is on the London Stock Exchange, where it trades under the ticker symbol BP.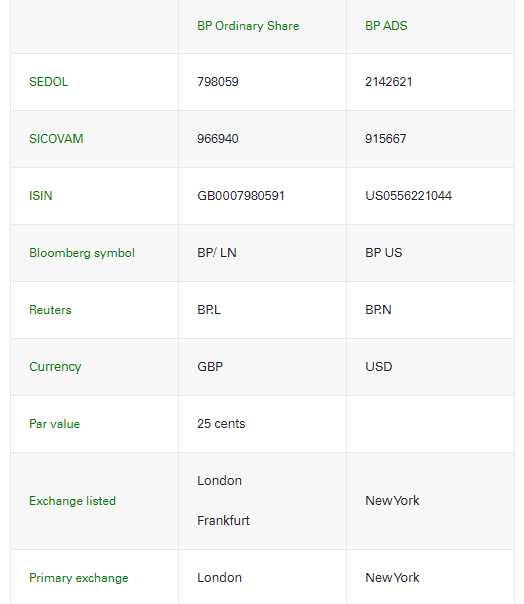 Source: BP
In terms of business fundamentals, the firm's considerable size means it is categorised as one of the seven 'supermajors.' Its legacy business is dominated by oil & gas. The reduced demand for carbon-sourced energy means it has also been working with other renewable energy sources.
From 1988 to 2015, BP was responsible for 1.53% of the world's industrial greenhouse gas emissions. Changing consumer behaviour means BP has now set itself a goal of cutting its greenhouse gas emissions to net zero by 2050.
By 2030, investments in renewables will be ten times what they currently are, and oil production will be 60% of current levels.
From an investor perspective, the firm is aiming to operate business as usual, just using different types of energy. If the plan works out, the firm will continue to create shareholder value by growing sustainable free cash flow and distributions over the long term.
'Distributions' to shareholders are the key aspect for BP shareholders. On its website, the company provides a breakdown of its dividend history, dating back to 1993.
Steps to Buy BP Shares
Modern online brokers offer a very user-friendly service. The best trading platforms are a delight to use and offer clients a wide range of markets, providing customer support and virtual trading accounts for newbies to practice with.
There are two main ways to trade BP. One is via CFDs (in countries where CFDs are available), and the other is using a share dealing account. In reality, most brokers offer both.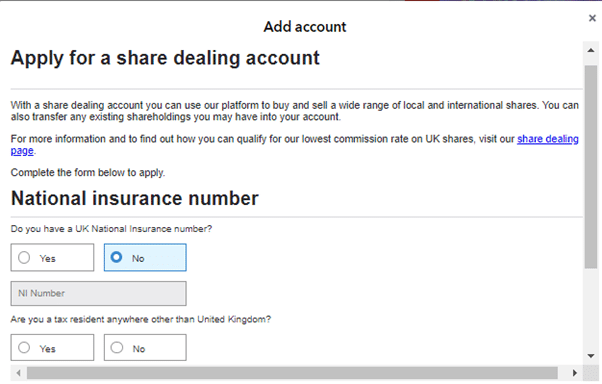 Source: IG
CFDs have more functionality than shares. Being a margined product, CFDs allow traders to sell short and use leverage. They are particularly popular with traders who operate short-term strategies.
Share dealing in a buy-and-hold way is more straightforward, and there are no overnight financing fees. Those looking to hold equity positions for more than 4–6 weeks tend to shift towards using a share dealing service. More information on the pros and cons and how to work out what is best for you can be found here.
1. Research BP Shares
There's a lot going on at BP. Running a successful business is hard enough, but transitioning from one energy type to another brings risks.
Researching how BP is managing the transition is vital before you jump into investing in the stock. Given the firm's high profile, there is a lot of free research available online. The firm itself is another good source of material with its range of financial reports available to the public.
2. Find a Broker
Whether you are trading using CFDs or shares, the most important thing about choosing a broker is to use one that is well-regulated. Look for firms operating under licences from Tier-1 authorities such as the Financial Conduct Authority (FCA), the Australian Securities and Investments Commission (ASIC) or the Cyprus Securities and Exchange Commission (CySec).
3. Open & Fund an Account
Completing the registration process takes minutes to do. Regulated brokers are required to establish certain facts about where you live, your trading experience, and your investment objectives.
With most brokers, this is all done online and will require you to upload a form of ID.
Funding your account can be done in seconds. If you're using a bank or credit card, the process has the feel of online shopping. Other payment methods are also available, with some brokers specialising in allowing their clients to use more obscure methods.
4. Set Order Types
Modern trading platforms come with trade execution monitors, which make the process of buying BP particularly easy. There will be all sorts of other markets on the platform, but selecting the BP option will take you to a screen where you can input your trade instructions.
If you're trading using CFDs, you'll have the option to 'sell-short' as well as 'buy' BP shares. If you're going with the share dealing option, then you will only be able to buy.
It really can be as simple as inputting the amount you want to invest and clicking a button, or if you're using a handheld device, tapping a screen.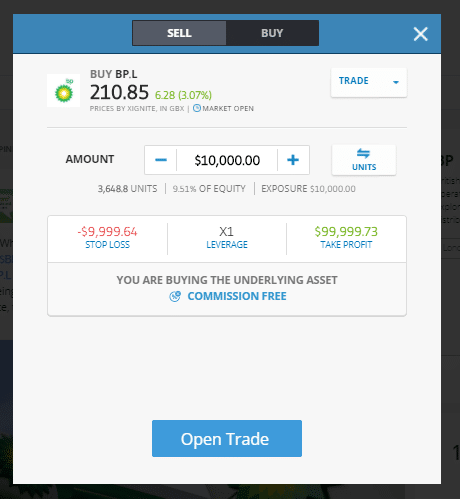 Source: eToro
Taking a bit more time to use 'Stop-loss orders' and take-profit instructions will allow you to build some risk management into your trading. These are automated instructions to close out a position when price reaches a certain level.
5. Select and Buy BP Shares
After checking, and double-checking your trade instruction, it's time to hit the final confirmation button.
Different brokers have different names for this button. Depending on who you use, you'll see mention of 'Open Trade' or 'Place Order'. Clicking that will debit cash from your account, and credit you a holding in BP.

Source: eToro
As your BP position is now 'live' you'll be able to monitor its performance by accessing the 'portfolio' section of your account. Here you will get an idea of real-time profit / loss and also see the tools needed to close the position out manually, if and when you want to do that.
Finding the right broker for you is perhaps the most important part of the process. While you can buy BP stock with most brokers on the market today, not all brokers are created equal.

Best Brokers to Buy BP Shares:
Plus500 | CFD provider:
82% of retail investor accounts lose money when trading CFDs with this provider
Open Account
If you're ready to buy BP shares, you'll need to use a broker that is FCA regulated, has low trading commissions and a reliable trading platform. The good news for traders is that there is intense competition between brokers. This feeds through in terms of lower costs and fees, and also in upgrades in service levels. Broker choice ultimately comes down to personal preference and involves establishing what you really want from a broker. Finding one can be an arduous and daunting task, which is why we've hand-picked favourites that tick all of these boxes to help you get started.
Trying different brokers out using demo accounts is a good idea. Broker comparison tables such as this one here are also helpful and will help you make an informed choice. It's worth setting up demo accounts with a few brokers to see which suits you best.
Fees When Buying BP Stock
Price moves can make or lose you money in an instant. It is also important to monitor administrative costs. One fee in particular — overnight financing — accrues daily, so can eat into CFD profits if positions are held for a long time.
Buying shares outright avoids overnight financing charges and goes some way to how you can make the decision to trade using CFDs or shares.
| | eToro | Plus500 | Markets.com |
| --- | --- | --- | --- |
| Inactivity Fee | Yes | Yes | Yes |
| Inactivity Fee details | $10 per month. After 12 months | $10 per month. After 3 months | $10 per month. After 3 months |
| FX Conversion | Yes – on non-base currency trades | Yes – on non-base currency trades | Yes – on non-base currency trades |
| Fund withdrawal fees | Yes – $5 | Applied on some payment methods | Yes – $5–$100 |
| Trading commissions | Included in spread | Included in spread | Included in spread |
| Overnight Financing | Yes, on CFDs | Yes, on CFDs | Yes, on CFDs |
Summary
While BP shares are not preferred by every investor, many are attracted by the company's robust track record and dividends.
All trading involves risk and return, and there is no guarantee that the business transformation will be successful. However, there are enough research materials freely available to help you make that decision. The good news is that the part of the process that involves setting up and using an online broker account is incredibly straightforward.
People who read this also read: