---
eToro Trading Fees
Let's first take a look at some of the day-to-day trading fees you need to be aware of. These include fees related to day-to-day trading activity such as:
Deposit Fees
eToro does not charge deposit fees. All deposits to your eToro trading account are only in US dollars and would, therefore, incur a conversion fee if you fund your account in any other currency.
You can deposit funds into your trading account via:
Bank wire, online banking
Debit/Credit cards
iDEAL, Sofort, Giropay, PayPal, Skrill, Neteller, RapidTransferAll the fund deposit methods are easily accessible on the eToro CFD platform
All fund deposit methods are easily accessible on the eToro CFD platform. Simply click 'Deposit Funds' and choose your payment method in the dropdown menu.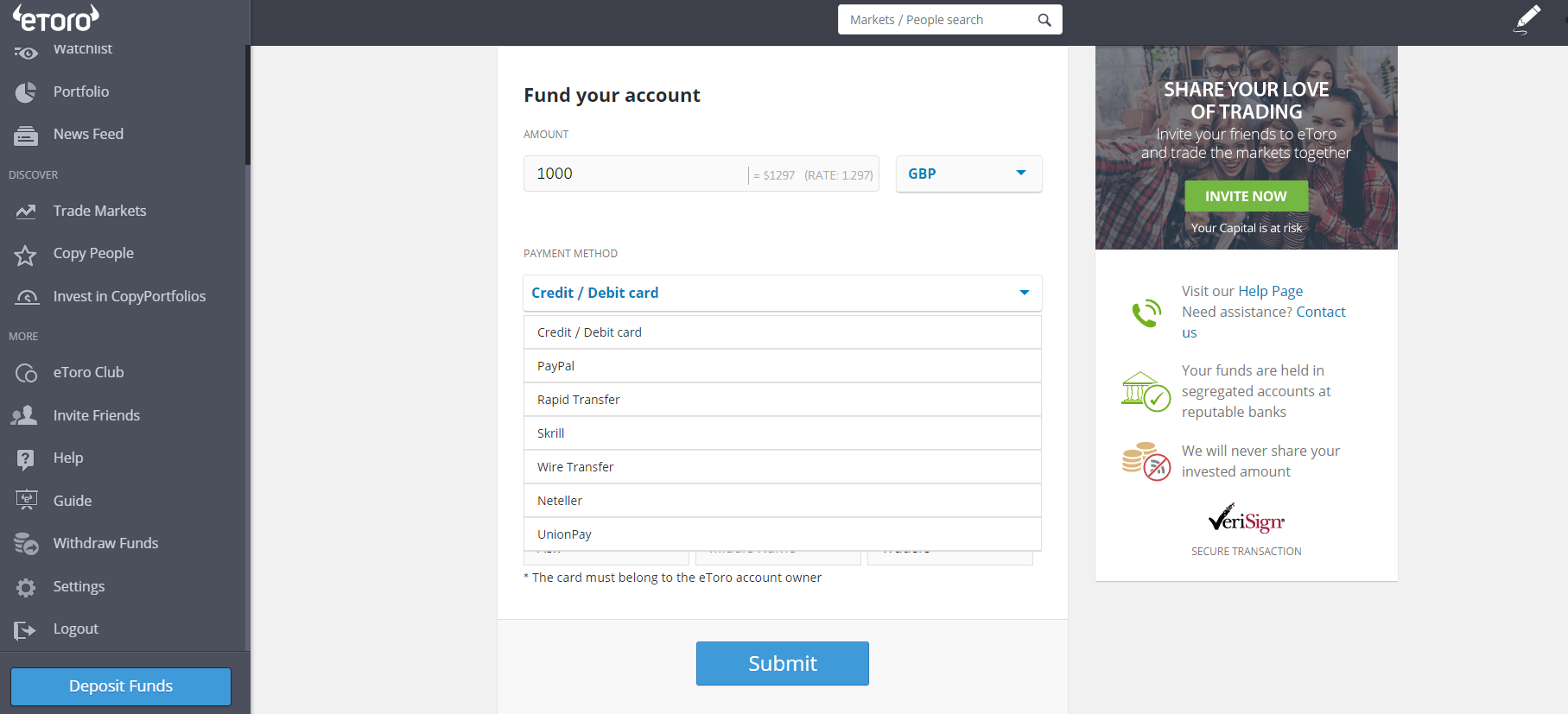 Transaction and Commission Fees
eToro does not charge a commission on investments in stocks. When it comes to CFDs, although the broker states that they do not charge ticket fees, we suggest you check with the broker before signing up.
Low-Cost eToro Alternatives
Admiral Markets:
Impressive range of assets
Take A Look
If you are looking for a reliable broker with low fees and fair conditions then this is who we recommend. All have been reviewed by our team and have been found to offer a low cost way to trade
Spread Cost
Clients signing-up with eToro would find that the spread contributes significantly to total trading costs. The bid-ask difference varies across financial instruments, asset classes and the charges are visible while exiting positions.
Unlike a majority of CFD brokers who include the fractional pip to calculate spreads, eToro does not. So, you might find the bid-ask difference a little higher compared to the other brokers.
eToro makes it incredibly easy to see the spread cost on any given instrument, from crypto to indices and stocks.
To view spreads, head to 'Trade Markets' and select the filter option in the top right-hand corner and select your instrument of choice: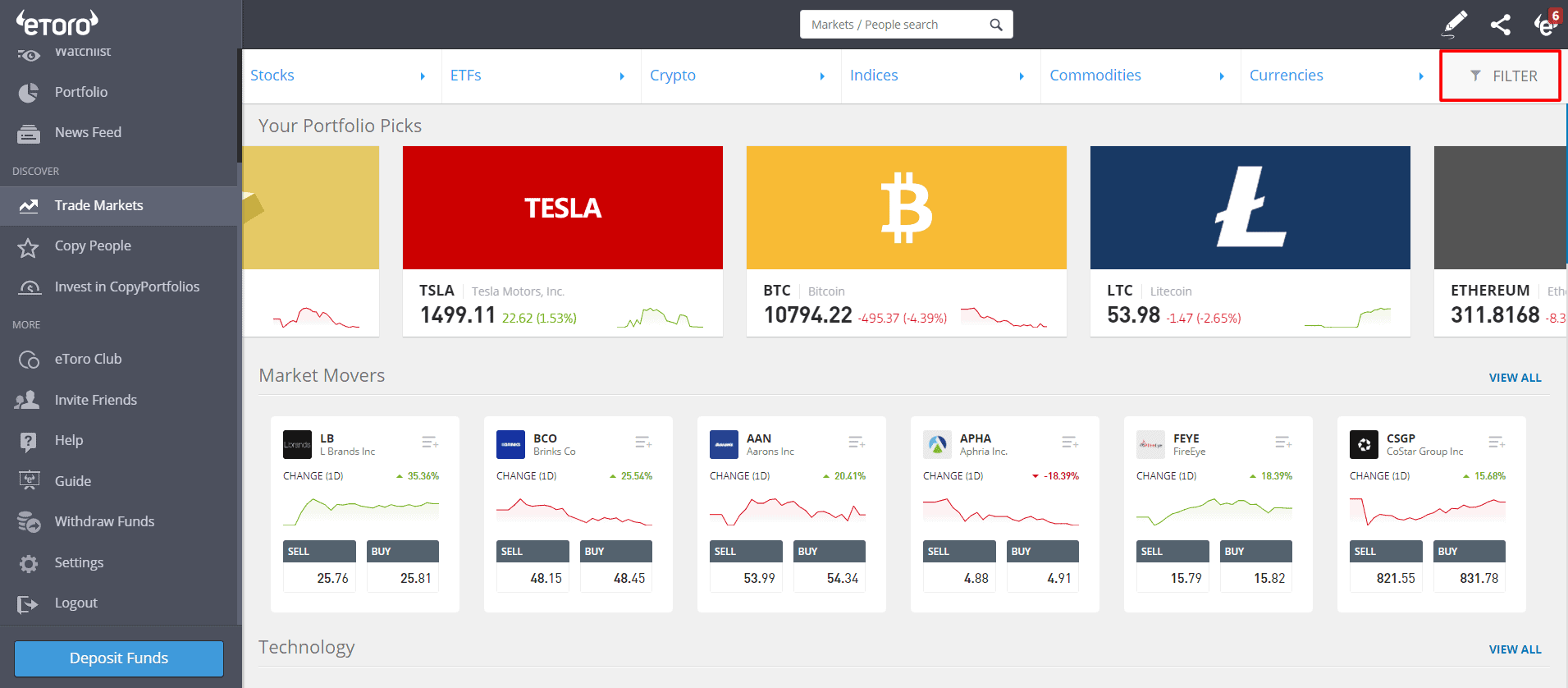 We really like the fact that spread costs update in real-time:

Currency Conversion Fees
All deposits and withdrawals are in US dollars. So, if you fund your account in any other currency, there would be a currency conversion fee. The conversion fee varies on the payment method, is charged for both deposits and withdrawals and could range from 50 pips to 25,000 pips depending on the currency pair.
Diamond members depositing/withdrawing funds in EUR, AUD, or GBP do not have to pay currency conversion fees while Platinum and Platinum+ members receive a 50% discount.
Bank Wire Transfer, iDEAL and Sofort
Take this quick quiz to help us find the best path for you
Less than 1 min to do
| | |
| --- | --- |
| Instrument | Conversion Fee Upon Deposit & Withdraw |
| AUD USD | 50 pips |
| EUR USD | 50 pips |
| GBP USA | 50 pips |
When depositing or withdrawing AUD, EUR and GBP via wire transfer, iDEAL, Sofort and Giropay, Diamond members are automatically exempt from conversion fee. Platinum and platinum members receive 50% discount. Read more about the offers of the eToro club.
Credit Card, Paypal, Skrill, Neteller, Rapidtransfer and Union Pay
| | | |
| --- | --- | --- |
| Instrument | Conversion Fee Upon Deposit | Conversion Fee Upon Withdrawal |
| AUD USD | 100 pips | 50 pips |
| EUR USD | 150 pips | 50 pips |
| GBP USD | 50 pips | 50 pips |
| MYR USD | 200 pips | 200 pips |
| RMB USD | 400 pips | 400 pips |
| PHP USD | 2500 pips | 2500 pips |
| THB USD | 35 pips | 35 pips |
Rollover or Overnight Funding
The rollover or overnight fee is applicable for all open positions on CFD products. The overnight fee comes into effect at 21:00 GMT, Monday-Friday. The 3X weekend fee is payable on Friday for stocks, ETFs, index CFDs and every Wednesday for currencies, commodities, cryptocurrencies.
In the case of non-leveraged long positions in equities, ETFs and cryptocurrencies, eToro does not charge the overnight or rollover fees. This fee structure is available to all eToro clients except those in the US.
The charges are clearly visible at the bottom of the trade window on the eToro platform: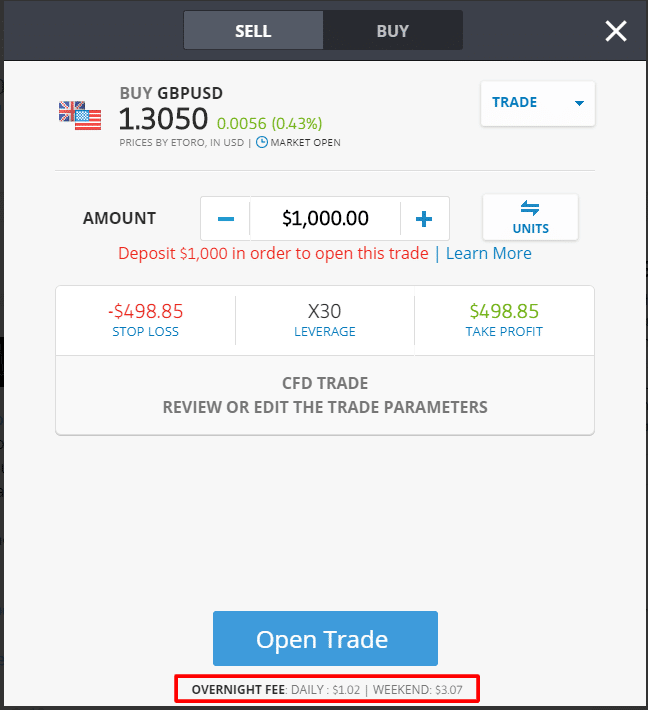 Cryptocurrency Fees
Depending on which cryptocurrency you're trading, you will be charged a fee on your transactions. This also includes transferring funds. The table below highlights the transfer fees for various cryptocurrencies: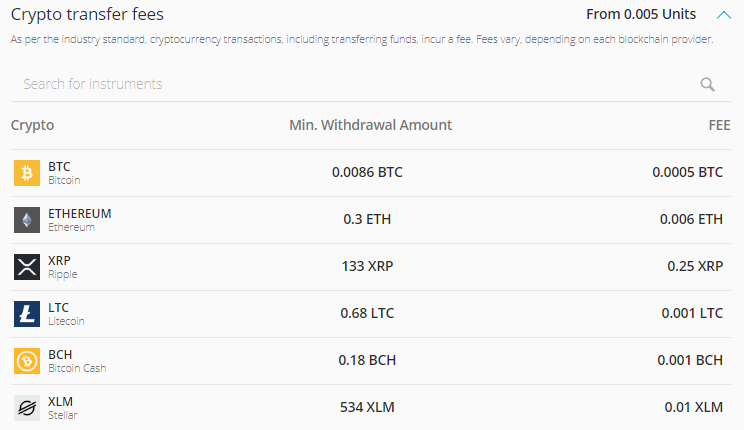 ---
eToro Non-Trading Fees
Non-trading fees are fees that occur related to some operations you make in your account, such as depositing money to your account, withdrawing money from it or not trading for an extended amount of time.
eToro non-trading fees include
Withdrawal Fees
Inactivity Fees
Crypto Transfer Fees
Management Fees
Withdrawal Fees
While eToro does not charge a deposit fee, there is a $5 withdrawal fee that the broker charges to cover its international money transfer expenses.
Inactivity Fees
eToro charges an inactivity fee of $10 per month which is billed after twelve months of inactivity on your account. To avoid paying this fee, remember to regularly log in to, or close your eToro account.
Inactivity Fees vs. Other Brokers
| | | | |
| --- | --- | --- | --- |
| | eToro | Plus500 | Markets.com |
| Inactivity Fee | Yes | Yes | Yes |
| Inactivity Fee | $10 per month after 1-year inactivity | $10 per month after three months inactivity | $10 per month after three months inactivity |
eToro Crypto Transfer Fees
eToro allows traders to transfer cryptocurrencies from the platform to the eToro Wallet. Irrespective of the digital currency, a transfer fee applies.
eToro Management Fee
eToro does not charge management fees for holding assets in the stock investing account.
---
eToro Fees Summary
Our review of the eToro fees shows that the broker's primary revenue stream is from the spread. The broker does not charge a transaction or commission fee regardless of whether you sign-up for CFD trading or an investment account. Besides, you do not have to pay separately to copy trades of other investors nor does eToro charge for deposits. However, the other fees linked to currency conversion, crypto transfers and fund withdrawals certainly lead to higher trading costs.
People also viewed