What can we learn from Cathie Wood's investment portfolio? First a little bit of background. The Ark Innovation ETF (ARKK), which Wood set up and is CEO and CIO of, posted a return of +150% in 2020. It subsequently lost ground and posted a -23.35% return for 2021. That high risk-return offering might not be for everybody, but her aggressive approach to investing can blow the performance of other funds away. Those who buy into her tech-focussed Ark Innovation ETF get the rollercoaster ride they pay for.
There is also a great deal of transparency about her investment methodology, and it's even possible to track her recent trading activity. We look at what Cathie Wood is buying now, how that fits her investment philosophy, and what pointers other investors can draw on and apply to their trading.
"Technologically enabled innovation follows declining cost curves and prices that enable exponential growth opportunities for mass markets. Stay on the right side of change!"
Source: Cathie Wood
Cathie Wood's Investment Philosophy
Cathie Wood and her investment team focus on firms best described as 'disruptive innovators'. The aim is to use a futuristic approach to capture long-term trends that result in massive wealth creation. Risk factors include the number of variables in play when looking so far into the future. There is also Key Man Risk, which explains how many of the firms she backs, such as Tesla Inc, are managed by enigmatic leaders like Elon Musk, who play a crucial part in those firms meeting their objectives.
The risk is worth taking for Wood, and legacy firms are a much less attractive proposition.
"Many industries and companies in the cross hairs of disruptive innovation – like autos, energy, banks, pharma, old tech – have attracted investors with high dividend yields in a yield-starved market and share repurchases financed with leverage. Those companies are in harm's way."
Source: Cathie Wood
What Cathie Wood Is Buying Now
Wood is known for making bullish predictions on her favoured tech stocks and doesn't let short-term price volatility get in the way of her long-term investment goals. Her reputation for buying the dips is backed up by her comments on how to manage a market sell-off, with her being quoted as saying, "corrections are good; they keep us all humble." And "the strongest bull markets I've been in are built on walls of worry."
That perma-bull mantle that fits Wood so well has resulted in her funds continuing to step into the market to buy stocks even as stock markets have approached bear market territory in 2022. Information on what her funds buy is freely available due to those ETFs making public disclosures on their positions and Wood's willingness to speak to the media.
The Ark ETFs invest mainly in equities. As of 19th May 2022, 99.93% of Ark Innovation ETF was invested in stocks. The sector with the most significant allocation was Technology with 37.92%, Healthcare investments made up 31.55% of the portfolio and Communication Services and Consumer Cyclical represented 17.00% and 11.76%, respectively. No single stock made up more than 10% of the portfolio, but Tesla Inc, Roku Inc, and Teladoc Health Inc were sizable positions, with each firm making up between 5 – 10% of the portfolio.
Cathie Wood and Tesla
Tesla Inc has been one of her big bets, and the fortunes of Ark, Wood, Tesla, and Musk are heavily intertwined. Wood describes Tesla as being "in a league of its own". The brand's strength and the company's first-mover advantage are well documented and explain why Tesla stock increased in value by more than 1,441% between March 2020 and November 2021. Cathie Wood and Ark built up significant TSLA positions to catch that price surge, and like Elon Musk, Wood has at times lightened her position to lock in profits. The trading in and out of Tesla reflects her willingness to adopt a high beta strategy and to pick the peaks and troughs on the price charts rather than fall in love with a position.
Tesla Inc Share Price – Daily Price Chart – 2018 – May 2022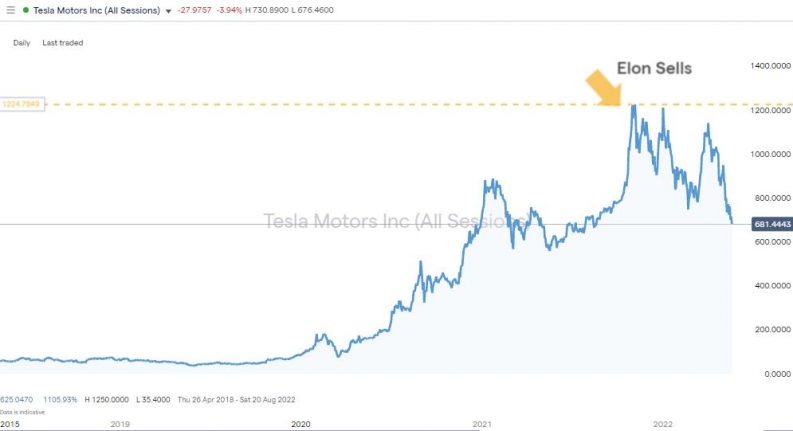 Source: IG
Ark still holds a sizeable position in Tesla, and some of Wood's analysis is based on features of the firm which others might not immediately bring to mind. One example is the potential for Tesla to leverage off its prominent position as an EV manufacturer and make inroads into AI and driverless vehicles. Considering the prospects of Tesla in relation to tech giant Google, she said:
"As time goes on and we learn about their artificial intelligence expertise, the 30 billion miles they have collected of real-world driving data, no one comes close … I think Google might be at 30 million, compared to 30 billion and we know that in the AI [artificial intelligence] world and autonomous is AI that the company with the most data and the best quality data will win."
Source: Cathie Wood
Cathie Wood and Shopify (SHOP)
Shopify is another long-term target of funds managed by Wood. The eye-watering price rises in SHOP in 2020 and 2021 were part of why the Ark ETF doubled in value, but as with Tesla, Wood is not averse to scaling back on her position and locking in some profits from time to time. In late 2021 Wood sold a large percentage of her Shopify position but was by May 2022 stepping back in to buy following the stocks more than 78% price crash.
Wood has stated that Shopify has the potential to disrupt the online retail sector currently dominated by Amazon. There would be some irony if Amazon, one of the greatest disruptors in stock market history, became a victim of another disruptor. Still, the margins on AMZNs e-commerce business are being squeezed. The Q1 2022 earnings report for Amazon highlighted how Jeff Bezos' firm is becoming over-reliant on its AWS division for revenue and profits. It also saw the management downgrade their forecasts for Q2 performance, a move which shaved 10% off the price of Amazon stock.
If Shopify really can challenge Amazon, then the prediction by Wood back in May 2021 that SHOP stock had more upside, even though it was trading above £1,200 per share, could prove correct.
"We know Shopify is a very expensive stock but because of these viral networking opportunities around commerce, we think it's the most exciting one probably out there… Shopify doesn't care who wins. It's going to be involved with many, if not most, of all of the sites that are going to be powering up commerce."
Source: Cathie Wood
Shopify Share Price – Daily Price Chart – March 2018 – May 2022
Source: IG
By 19th May 2022, SHOP stock was trading below $400, and many investors followed Cathie's cue to step in and buy Shopify at rock-bottom price levels. The firm's USP of using social media platforms to generate sales has remained intact despite the recent sell-off. Consumer spending may, in the short-term, be curtailed due to inflationary pressures on household budgets, but if, like Cathie, you are taking the long-term view, then Shopify is a buy.
Cathie Wood and Roku
The 20th May 2022 marked a tipping point in the history of Cathie Wood's investment process. It was the day when Tesla no longer held the title of being the largest position in the ARKK ETF. Video streaming service Roku took the top spot thanks to it making up 8.4% of the fund's value, and Tesla "only" 8.2%.
The move was widely reported but didn't reflect a change of strategy. The repositioning of the top spots was instead caused by price moves, with Roku holding up better than Tesla in the latest round of selling pressure. In the previous month, Tesla had fallen in value by 27%, whereas the price of Roku had declined by 12%.
The relative outperformance and vote of confidence from Wood are unsurprising. Roku is precisely the kind of disruptor company Wood likes to invest in. It has strong brand recognition, continues to produce innovative hardware, and keeps finding new ways to generate revenue.
Roku – Daily Price Chart – March 2018 – May 2022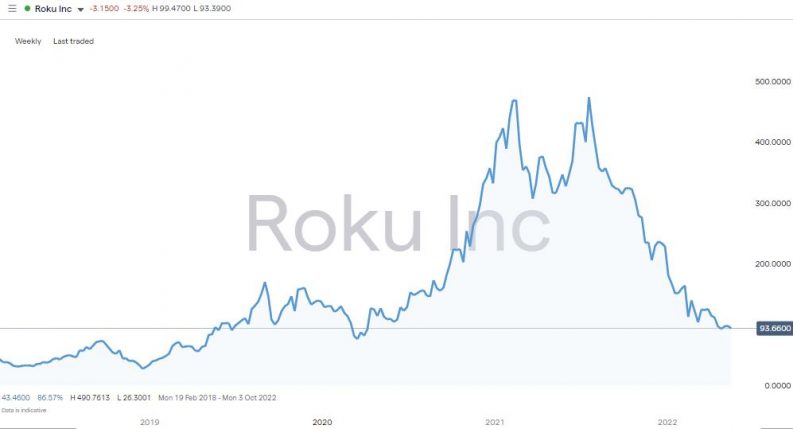 Source: IG
Cathie Wood and Coinbase
Crypto platform operator Coinbase can often be found in the list of Top 10 holdings of the Ark Innovation ETF. During the tech sell-off of the first half of 2022, Cathie Wood and ARKK kept on buying into COIN stock as it fell from highs of $257 to $62 per share.
Coinbase – Daily Price Chart – 2021 – May 2022
Source: IG
The functionality of the Coinbase platform is a bit clunky and doesn't offer many groundbreaking features. However, the ARKK investment is less about neat software gimmicks which competitors can quickly clone. Coinbase has 89m verified accounts, which will, for many users, be their first step into blockchain operated systems. Wood has identified blockchain technology as one of the trends to follow, saying:
"Genomic sequencing, adaptive robotics, energy storage, AI, and blockchain technology are realities, their stocks seemingly in deep value territory."
Source: Cathie Wood
The volatility of the crypto markets does make Coinbase's business model one which is likely to be tested. The Q1 earnings report revealed the firm had swung from making a profit to a loss, and there are persistent bankruptcy scares and online chatter about coins being confiscated. That being said, a small, speculative stake in COIN stock hedges against a severe bout of FOMO if Wood is proven correct about the prospects for cryptocurrency and the blockchain
What is Ark Invest
Ark Invest is an investment management firm based in New York which manages several ETFs (exchange-traded funds). Investing in ETFs is a cost-effective and user-friendly way to gain exposure to a basket of assets with one buy instruction. More importantly, Ark ETFs have been posting a market-beating consistent basis.
To fit in with their innovative approach to research and analysis, Ark analysts don't follow sectors but instead follow 14 different technologies. These include mobile connected devices, gene editing, digital wallets, blockchain, living therapies, battery technology, reusable rockets, robotics, 3D printing, autonomous mobility, cloud computing, gene sequencing, the Internet of Things, and artificial intelligence.
Cathie Wood founded Ark Invest in 2014 and now has more than $52bn in combined assets under management. The Ark Innovation ETF has $17bn in assets under management and is regarded as the company's flagship fund. Its size and high profile mean Wood's investment guidance is keenly followed. Before founding Ark, Wood spent 12 years working as the Chief Investment Officer of Global Thematic Strategies at AllianceBernstein, where she managed $5bn of assets.
Final Thoughts
One advantage of digging into the investment approach of Cathie Wood is that trades booked to her ETFs are shared with the public daily. That allows retail investors to keep track of her strategy in nearly real-time and get close-up access to a billion-dollar fund with a track record of picking the best disruptor stocks.
The stocks Cathie buys are all widely available to trade at online stockbrokers but given the holding period on trades could be months or years, it is essential to check the T&Cs of your broker to ensure admin costs don't eat into profits. This shortlist of trusted brokers shows those reviewed by the AskTraders team to ensure they offer cost-effective and safe trading conditions. Alternatively, you could invest in the ETF directly using one of these brokers.
Whether you're an experienced trader or a newbie, there is always something to learn from industry pros and turning their ideas into your profitable trades has never been easier.
"More transformative innovation platforms are evolving today than ever before: DNA sequencing, robotics, energy storage, AI, and blockchain technology. Interest rates will rise in this deflationary boom, with short rates up more than long. The markets will continue to confound!"
Source: Cathie Wood