Key points:
Boohoo shares have fallen 38.9% in 2022 and are still falling.
Many investors wonder why the fashion retailer's shares are falling
A move higher could be on the cards as we reach multi-year lows.
The Boohoo Group PLC (LON: BOO) share price has fallen 38.9% in 2022, bringing its losses over the past twelve months to 76.98% as sellers remain firmly in control.

For those wondering why Boohoo shares keep falling despite its successful fast fashion business model, here are some reasons why the selloff is yet to end.
There are multiple reasons for the massive drop in Boohoo shares from an all-time high of 433p in June 2020 to its current share price of 75p.
One of the main reasons behind the massive selloff is the sweatshop labour scandal uncovered in 2020 and the resulting investigation, which indicated that the company was aware of the practices by some suppliers but turned a blind eye.
The scandal remains the gift that keeps giving in Boohoo's case since the scandal triggered a mass exodus of institutional investors triggering the initial wave of selloffs.
Still, it has been two years since the scandal, yet Boohoo shares are yet to get a reprieve as the downtrend remains firmly in place. Moreover, other factors have emerged to keep Boohoo's shares under pressure.
The company recently reported having difficulties shipping products to the United States, with many shipments taking up to ten days to arrive, against the core of its business model known as "fast fashion".
The rising global inflation is another factor that could affect Boohoo's sales as the year unfolds, with consumers having less money to spend on fashion items.
Luckily for Boohoo, its fashion pieces are lowly priced to appeal to younger consumers who are more fashion-conscious than older consumers, which could be a significant advantage.
However, only time will tell how Boohoo will perform in the current economic environment. Looking at Boohoo's daily price chart, its shares are attempting to rally higher but have not made significant gains.
There is still a long way to go before saying that Boohoo shares have entered a new uptrend.
The next resistance level is at the 50-55p level, which has been in place since June 2016, where we expect buyers to step in. I would be interested in buying Boohoo shares at this resistance level.
For those long term Boohoo shareholders, I would encourage them to hold on to their shares since the good times will come back as the shares rally once again. Such a rally could be closer than many think.
*This is not investment advice. Always do your due diligence before making investment decisions.
Boohoo share price.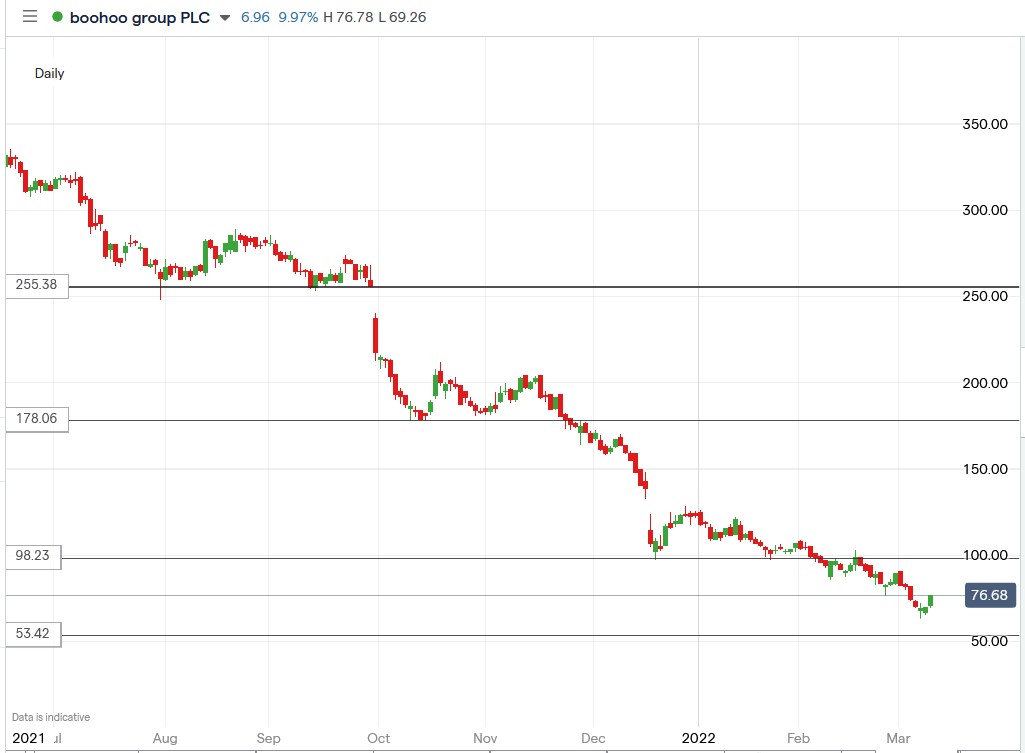 The Boohoo shares price has fallen 38.9% in 2022 but is trying to reverse course. Will buyers win?