Key points:
Cineworld shares are trading sideways after filing for bankruptcy protection.
The movie theatre chain expects to undergo a financial restructuring.
Common shareholders are going to be significantly diluted.
The Cineworld Group plc (LON: CINE) share price has been trading sideways after the world's second-largest movie theatre chain filed for Chapter 11 bankruptcy protection in the United States but maintained the London listing of its shares.

Cineworld's bankruptcy filing came as no surprise given the massive debt burden that the company has been dealing with since the coronavirus pandemic struck in early 2020, leading to the closure of most of its cinemas for months.
Also read: Five Best Shares For Beginners To Watch In 2022.
The company has also struggled recently amid a lack of blockbuster movie releases that tend to bring moviegoers back to the theatres. As a result, the decision to file for bankruptcy was painted as a chance for the company to restructure its debt and emerge stronger. The company expects to emerge out of bankruptcy in Q1 2023.
However, ordinary shareholders will be significantly diluted after the restructuring since common shareholders are usually the last to be paid whenever a company implements a financial reorganisation.
Cineworld's bankruptcy filing is a cautionary tale for ordinary investors when investing in companies with massive debts. Investing in such companies has additional risks due to the debt burden that such firms have to service.
From an everyday investor's perspective, investing in companies with less debt is much better than those with massive debt. The same applies to those high-flying tech companies that generate significant revenues but have no profits.
While such companies have been performing well in the past, they have been hard hit by rising interest rates that have made their loan repayments challenging, making it difficult for them to access new loans.
Other public and private companies should avoid taking on massive debts, even if they are used to fund growth through acquisitions or mergers, since business conditions may change in future, making it challenging to repay their loans.
Cineworld shares are trading above a crucial support level, and many hope they will not break below it. However, a break below the level would lead to further losses.
*This is not investment advice. Always do your due diligence before making investment decisions.
Cineworld share price.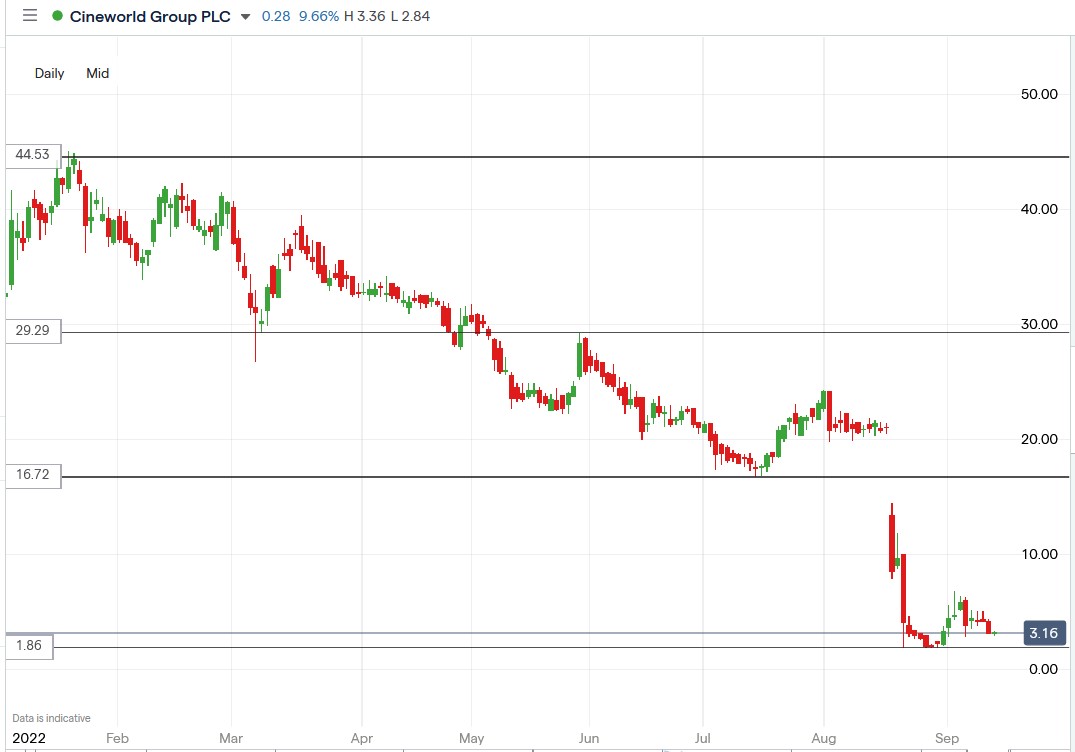 The Cineworld share price is trading sideways as the company deals with bankruptcy.