Key points:
Darktrace has received an indication of a possible bid and so is now in an offer period
We don't know the price, nor even whether there will be a bid
But American tech stocks are usually more highly rated than UK
Darktrace (LON: DARK) shares have jumped 20% this morning on the back of news about a preliminary approach of a takeover offer. The big question becomes well, how high could such a bid be, if indeed there is a bid at all? We've until Sept 12th to find out whether there will be a bid so there's clearly going to be some reasonably frenzied speculation along the way. As a simple guide, the more likely a bid the higher the Darktrace price will go. The top limit of a DARK rise will be what the market thinks someone might, in extremis, pay for it. Which provides those two levels of uncertainty there.
There's also a certain amount of fun here. For American takeovers of Mike Lynch associated software companies don't have a great track record. Well, not for the buyer they don't, even if shareholders here did extremely well out of the Autonomy deal. Of course, Darktrace is not Autonomy but there is still, in the mind of investors, a link. This complicates matters. For it then depends what this potential buyer – Thoma Bravo – thinks of such connections.
Stripped of all the legal issues the Autonomy point was that the company was aggressive in recognising revenues. There's some thought that Darktrace is too. If Thoma Bravo believe this then they'll put one valuation on the currently reported Darktrace revenues. On the other hand, what if Bravo thinks that other investors do believe that, but that it's not true? They'd then be willing to pay higher multiple for those reported Darktrace revenues. We're well into 4D chess realms of thinking therefore.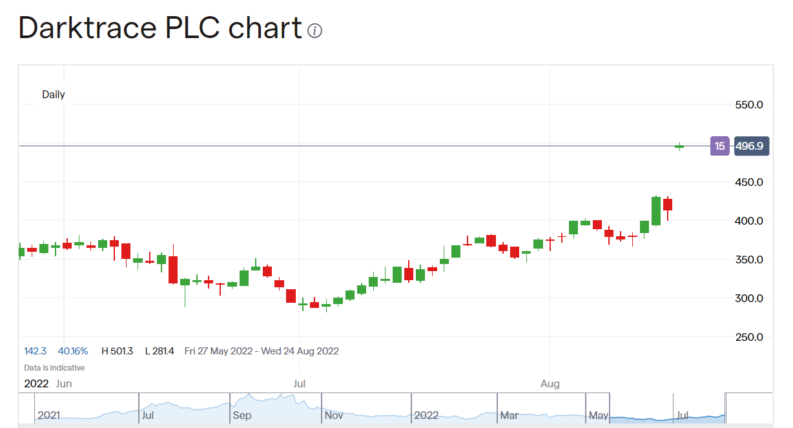 Also Read: The Best Tech Stocks To Buy Right Now
There is another issue here too. For there's a certain arbitrage possible between UK and US the stocks. US listed stocks tend to trade at higher multiples of revenues/earnings than do UK stocks – in the tech sector at least. So, there's an uplift in valuation available to Thoma Bravo simply by buying a UK stock then valuing it, in its funds, at American rates. As these things work out we'd rather expect some of that potential premium to turn up in the bid price. So the price here, in London, could be very rich by UK standards.
Putting all of that tactics aside it's also possible to think of what Darktrace actually does. We all know that cyber security is vastly more important these days. One way to deal with that is to map out the corporate network, then task an AI with looking for variances from normal behaviour. This won't be perfect but it could be good in noting breaches – they would be unusual activity. And AI is good at such pattern recognition for pattern recognition is what AIs actually do – rather than actually thinking. So it's also possible to value Darktrace on that basis, what it actually does.
The takeaway here is that Darktrace is now in play. Whether there will even be an offer we simply don't know. But by being in play we may well see a substantial revaluation of DARK stock.