Key points:
The Jasmy crypto price has fallen 86.2% YTD but is now trading sideways.
The token could rally higher with the leading cryptos if the markets recover.
However, we could get a further decline if a crypto winter begins.
The Jasmy crypto has been trading sideways since the crypto market crash on May 12, 2022, along with other cryptos such as Bitcoin and Ethereum, as investors adjust to the new realities of the crypto markets.

The sideways price action across most cryptocurrencies is a strong indicator that the current downtrend may be finally over and that the crypto market is preparing to start rising. However, there are no guarantees that we shall get such a rally. We might even decline further if new buyers don't show up to push prices higher.
The Jasmy crypto selloff was also driven by the tighter monetary policies that most central banks led by the US Federal Reserve have adopted. This has led to a lack of new liquidity being injected into the markets, which drove the last rally in stocks, cryptos and other asset classes.
If the JAsmy crypto breaks down from its current sideways trading range, underpinned by the 0.010 support level, we could see further declines. Unfortunately, such a move could herald a new crypto winter similar to what happened in 2018 and 2019 after bitcoin hit new all-time highs in December 2017.
However, the duration of such a winter would be much less than the 2-year crypto winter of 2018 and 2019 since the Fed is likely to resume its easy-money policies sometime soon after inflation falls to an acceptable level.
Meanwhile, investors are choosing to wait and see what will happen regarding Fed policies and their overall impact on the markets. Until then, we cannot say for sure that we have seen the bottom in Jasmy prices, with the same reasoning applying to other cryptocurrencies.
Looking at Jasmy's fundamentals, we know that the blockchain's main objective is to connect the growing number of IoT devices globally via a unique method where users create mini networks protecting their data.
The Jasmy platform uses a unique InterPlanetary File System (IPFS) similar to satellites in space. It combines Smart Guardian technology and a Secure Knowledge Communicator (SKC) to secure IoT devices on its blockchain from malware and other cyber threats.
The blockchain uses Smart Guardian (SG) to safely register IoT devices on its distribution network to ensure the safety of user data. Therefore, the demand for its services will likely keep rising over time, which is a positive factor for the Jasmy token's value.
*This is not investment advice. Always do your due diligence before making investment decisions.
Jasmy crypto price.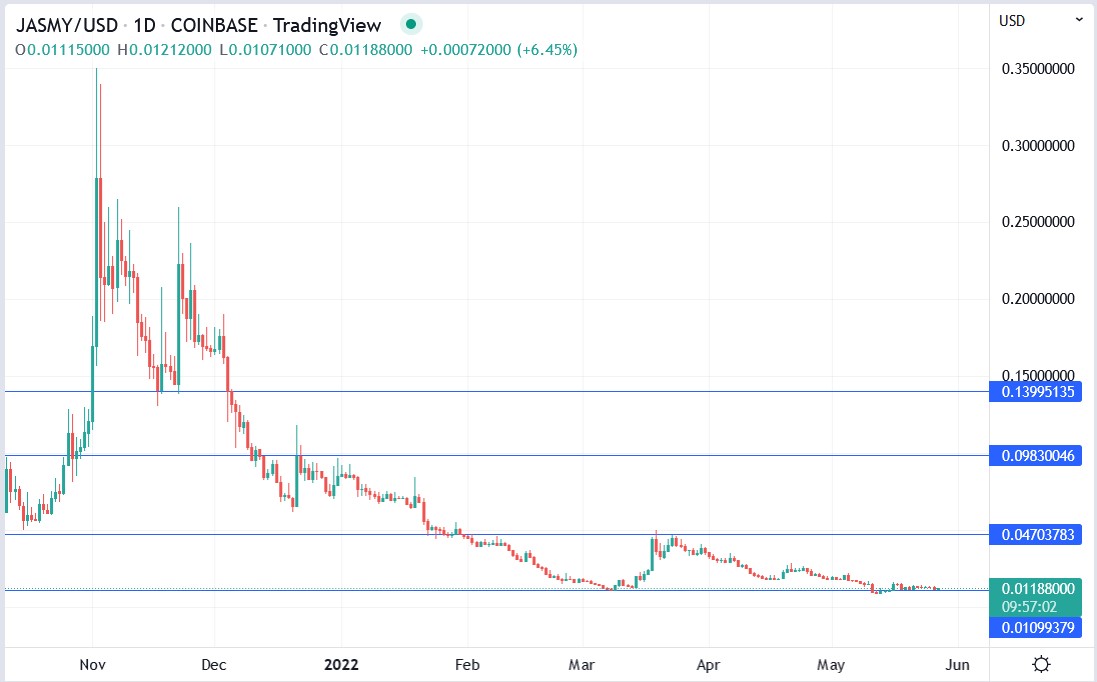 The Jasmy crypto price has fallen 86.1% in 2022 and is currently trading sideways at long term support.