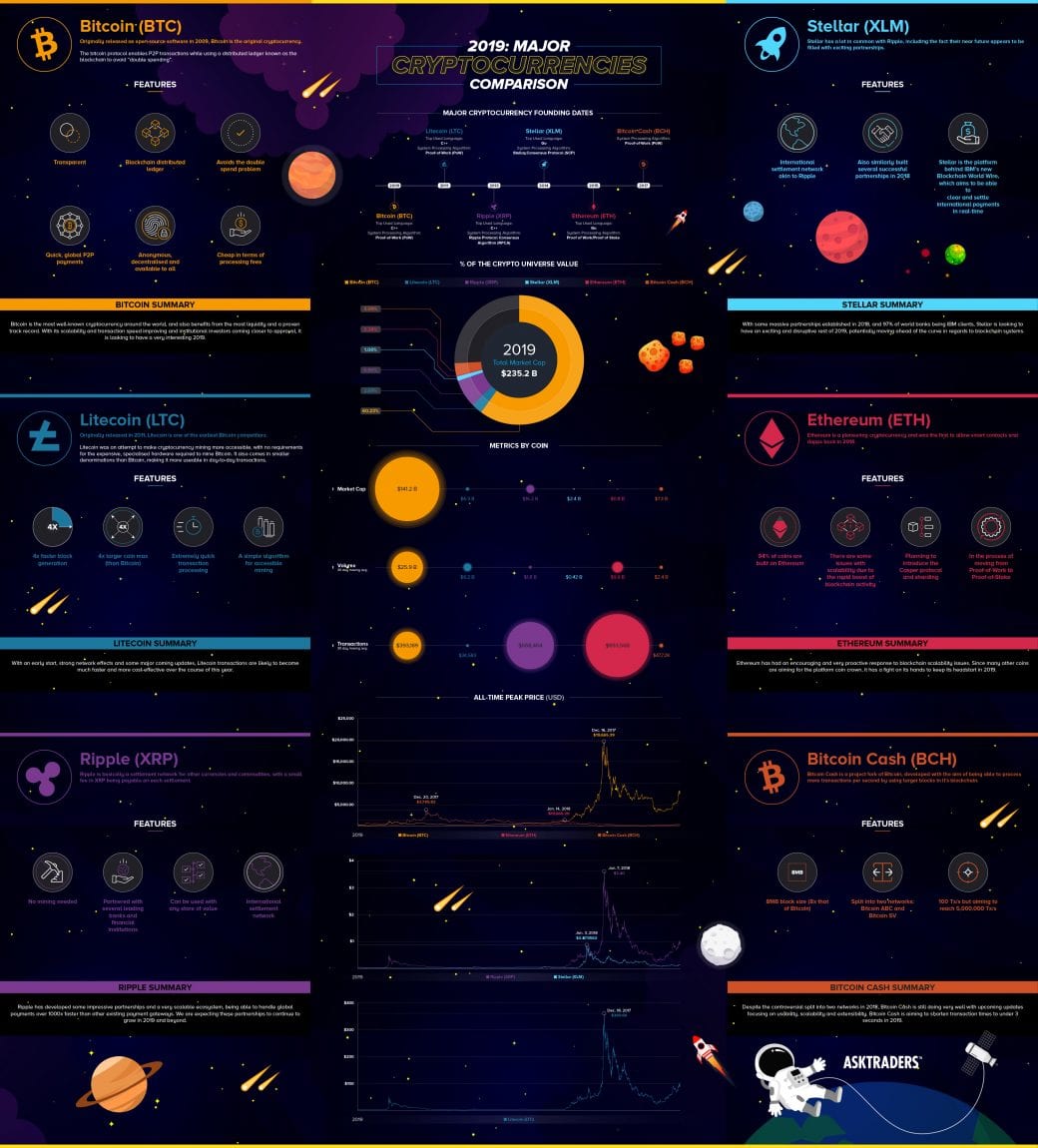 As we all know, 2018 was somewhat of a transition year in cryptocurrencies, with Bitcoin's price halting and many other currencies hard at work on fundamental blockchain updates. Despite this, all signs point to the rest of 2019 being a major time of change in the market, with institutional investors finally making their entrance and pulling prices upwards and blockchain spending on the up too.

With plenty of Bitcoin competitors emerging and taking interesting steps forward, the question of the best cryptocurrency to invest in gets ever more complicated.
In this article, we will break down our predictions for cryptocurrencies in 2019, discuss the current situation, and compare the major cryptocurrencies to Bitcoin and each other in an attempt to come to a conclusion on the best altcoins and Bitcoin alternatives.
If you're new to crypto trading we recommend taking a look at our guide on how to start trading cryptocurrencies in 2019.
With the number of digital currencies on the market constantly growing, we thought it was only right that we break down the pros and cons of the most popular coins in order to give you an overview of how they stand right now, and where they are likely to go next.
First, let's take a look at the changes we can expect to see to cryptocurrencies in 2019:
The State of Cryptocurrency: 2019 Predictions and Beyond
Historically, factors like technical obstacles, lack of regulation and the extreme levels of volatility have prevented institutional investors from getting involved in the cryptocurrency markets.
However, a combination of progress on those barriers and a world that's becoming more uncertain in the face of Brexit and a potential China-United States trade war has led to cryptocurrency investment being more highly valued by institutions, especially for its potential as a safe haven during turbulent times.
Nasdaq even started indexing cryptocurrencies this year, another huge sign.
All of this combined with some huge upcoming updates are all working to change the focus of cryptocurrency holders from HODL to BUIDL this year and beyond.
Here are some of the biggest institutional involvements in cryptocurrency going on right now:
IBM & Blockchain World Wire

As a world leader in digital technology and it's financial applications, it's no surprise that IBM is ahead of the game when it comes to blockchain technology.
Only 3% of the world's banks are not a client of IBM and with 90% of global credit card transactions going through its systems too, IBM is likely to remain at the forefront of digital finance and blockchain technology for the foreseeable future.
They have recently launched Blockchain World Wire, their blockchain system based off of Stellar. BWW allows financial institutions from across the world to use a stable coin, digital currency or any other digital asset as a bridge asset, allowing the clearing and settling of international payments at close to the real-time speed.
With BWW really taking off this year, you can expect to see Stellar get a pretty big boost, along with the potential of more large corporations getting involved in blockchain systems.
Governments are Taking Notice Too
With institutions finally taking notice and entering the world of cryptocurrencies, it should come as no surprise that governments are getting involved too. This mostly relates to legal issues and how blockchains are implemented internationally.
For example, while Russia is still struggling to implement its cryptocurrency regulations, they are expected to go into action around July, including the decision to allow cryptocurrencies to go untaxed.
At the end of last year, China allowed blockchain evidence to be used in a court of law.
Nations across the world are now truly paying attention to cryptocurrency and you can expect to see plenty more laws and regulations drafted and enacted on the subject in the coming months, which should then have the roll-on effect of making more private institutions feel confident enough to get involved too.
Major Universities Are Getting Involved
Starting in late 2018, major Universities around the world have been found to be interested in blockchain technology, not just offering courses in it but actually investing tens of millions from endowment funds too.
The acceptance of and even investment in such technologies from these typically conservative and unchanging institutions is a powerful sign for the future of cryptocurrency, aiding in the normalisation of cryptocurrency and almost certainly leading to increased adoption.
Bitcoin Still Determines Trends
While Bitcoin isn't likely to be the currency with 1000% returns as it has in the past, it will continue to drive the trends no matter whether they're neutral, up or down. Bitcoin has consistently been a good method of determining trends for the rest of the cryptocurrency market and this will still be the case.
The main reason is that Bitcoin futures will cap the upside potential due to there being two-sided trading in the Bitcoin market for the first time ever.
Ripple Is Increasingly Working With Banking Institutions
Bitcoin and cryptocurrency, in general, have often been viewed in a negative light by large financial institutions due to its decentralised nature.
Ripple is going the complete opposite direction, working on technology that's both centralised and easily trackable. While some may not like this fact, combined with Ripple's rapid transaction speeds, institutions are jumping on board rapidly and the rest of 2019 will likely be marked by a huge amount of new partnerships on their end.
All of this points to a positive future for cryptocurrencies as a whole, but what about individual currencies?
Let's take a look at some of the currencies that you can expect big developments from this year:
Cryptocurrency Predictions for 2019:
EOS
EOS is Ethereum's biggest competitor when it comes to being the champion of dapp platforms. Block.one also announced a major partnership in April that will give the EOS.IO system a huge boost across Asia. Both the user activity and the developer behaviour behind EOS have been superb and it has plenty to differentiate itself, from no necessary fees to improved usability and governance for both business and chain maintenance.
Like the rest of the market, EOS's standing for the rest of the year is closely dependent on Bitcoin, meaning it will likely be a relatively boring year with lots of sideways action and a few Bitcoin-induced ups and downs.
The current development phase doesn't come with dates, making it difficult to know what's coming next outside of individual announcements, but we do know that they're working on inter-blockchain communication which can only improve the speed and efficiency of their network.
While nothing is ever certain, EOS seems to have a promising future ahead of it.
BNB
BNB lept upwards in Q1 2019 and with most of the fundamental price drivers coming into play, this has a good chance of happening again in the near future.
Binance Chain mainnet also recently went live in April, taking BNB away from the Ethereum blockchain. BNB can be used to pay for exchange fees which makes trading cheaper for investors.
The future of BNB is mostly dependent on the success of the Binance exchange, which looks very positive and is consistently adding new features and services.
While nothing is certain in crypto and you need to take the time to do your own research, most cryptocurrency publications do seem to predict growth, with a modest price increase by the end of the year likely.
Bitcoin
During the last Bitcoin bull run, the industry was unable to keep up with the demand to the point that exchanges closed to new users and accounts were being sold for entire Bitcoins.
Bitcoin is currently displaying new signs of a bull run but with quicker transaction speed, increased scalability, and the involvement of financial institutions, meaning the currency will experience a very exciting rest of the year and has the potential to push the whole market into a bull run.
The coin grew from $3,862 on 1st January to $5,412 in May 1st, which would be a monthly return rate of almost 10% if you invested at the beginning of the year. As of writing the current price is $8,719.59, showing that this growth is only going to continue. In an age of several new promising altcoins, Bitcoin continues to go from strength to strength.
With the Lightning Network making Bitcoin more scalable than ever at exactly the right time, and a 60% share of the total cryptocurrency market cap, the future is looking very promising for the most famous cryptocurrency on the planet.
Ethereum
With 94% of new blockchain projects being built on Ethereum, the currency continues to benefit from being the first cryptocurrency ever to offer dapps and smart contracts. The huge boost in activity has led to issues with scalability but when the extremely regular updates are combined with the recent Bitcoin surges, Ethereum has finally moved away from their recent lows. While reversing its losses from last year, Ethereum seems to be keeping most of its positive gains and earning more and more developer attention in the process.
Ripple
Ripple is continuing along their path of prioritising speed, scalability and providing accessible financial services to those in areas without central banks. Foundations in South East Asia and the Middle East give a lot of promise but many still believe Ripple is unable to operate at full speed until centralization concerns and regulatory issues are addressed.
The currency is already head of the pack by a considerable margin when it comes to technical aspects and the speed of their blockchain, and they seem to be prioritising partnerships with organisations such as American Express and MoneyGram, which should help them gain the capacity to manage global volume into the future.
Bitcoin Cash
Bitcoin cash has benefitted both from having a lower price per unit than Bitcoin allowing investors to more easily buy full units, and it's much smaller market cap will lead to any increases being magnified in relation to those of Bitcoin, meaning Bitcoin Cash is much more likely to react aggressively to major changes in the market.
Bitcoin Cash is also currently working hard on improving its usability and scalability, along with cutting the average transaction time to below 3 seconds and making a more versatile protocol that can be easily and quickly updated. Bitcoin Cash's main goal is to become accessible to all, and they are making huge steps in that direction.