Key points:
The Norwegian (NCLH) stock price has fallen 47.1% in 2022.
However, the cruise ship stock seems to have recently bottomed.
So should you buy NCLH stock or trade it? Read on to find out.
The Norwegian Cruise Line Holdings Ltd (NYSE: NCLH) stock price has fallen 47.1% in 2022 but is now showing signs of bottoming out after bouncing off a long-term support level. So is the worst over now for the cruise ship operator?

The short answer is the worst is not over yet for any cruise ship operators, including Royal Caribbean and Carnival Corp. While the demand for cruises remains high, cruise ship operators have to contend with lockdowns in some parts of the world, which have limited their operations significantly.
Also read: The Best Travel Stocks To Buy Right Now.
The good news is that many countries have lifted the most restrictive lockdown measures allowing their citizens to travel without having to deal with quarantine requirements. In addition, most western countries have vaccinated most of their populations, making it easier for cruise ships that only allow vaccinated passengers on board.
Another issue that all the cruise operators are dealing with is high debt levels since they had to borrow heavily to remain operational during the 2020 and 2021 lockdowns. In addition, many cruise ships are still not operating at their total capacity due to various COVID-19 rules; hence, their profitability has reduced significantly.
These combined factors mean that the road ahead for most cruise ship operators, including Norwegian Cruise Lines, is full of challenges. However, there is cause for optimism regarding NCLH stock, which is the high demand for its cruises.
The company's subsidiary Regent Seven Seas Cruises, recently announced a 150-nigh around-the-world cruise, which sold out immediately before official reservations were announced.
The demand for cruises is evident, but can cruise ship operators return to profitability, or will they continue relying on debt to fund operations? That's the million-dollar question. Unfortunately, the answer is nobody knows for sure, and only time will tell.
However, for short-term traders, there is an opportunity to buy NCLH stock at its current prices trading above the $10.40 support level with a target at $14 to $15. A break below the support level would invalidate the bullish thesis.
*This is not investment advice. Always do your due diligence before making investment decisions.
NCLH stock price.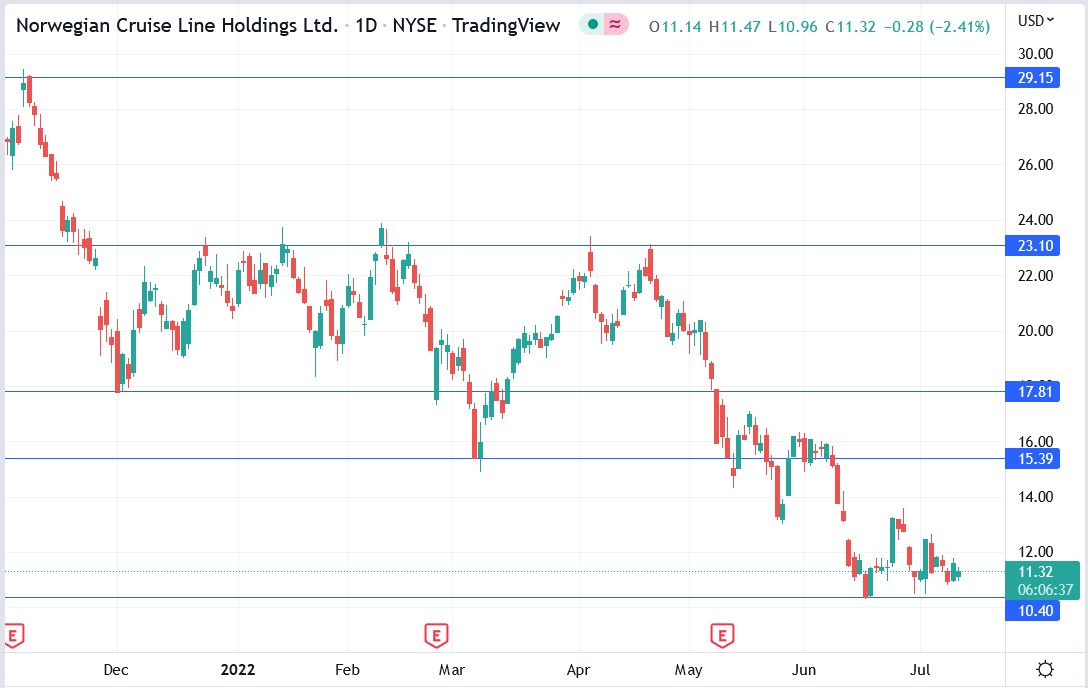 The NCLH stock price has fallen 47.16% but is showing signs of bottoming. Has it bottomed, and is it a buy?