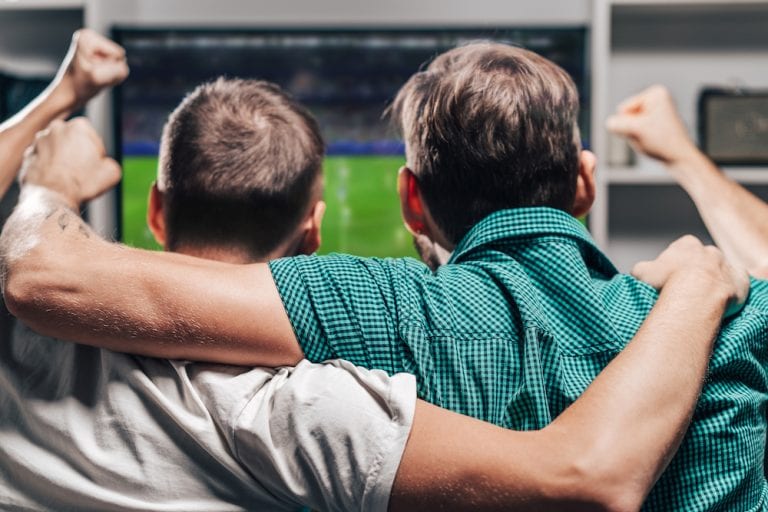 Established in 2015, Football Index remains a unique proposition that straddles the worlds of asset trading and sports betting to this day. There remains nothing quite like it. Read on for our Football Index guide.
 In essence, you are looking to make your profit by buying shares in any number of the 3,000 players who feature on the site. You can sell them on when you have enjoyed capital gains, or simply invest in the players as 'cash cows' that yield dividends based on their performances out on the pitch for their clubs and international teams.
You can trade via the website or the dedicated Football Index app, which is available for both iOS and Android users.
Football Index is a pretty simple concept to understand when you have had a play around with the market, and with plenty of gains to be made as the site gets more popular, there has never been a better way to make your knowledge of the beautiful game count.
In this Football Index guide, we will explore step by step how you can sign up, how the basic principles of the site/app work, and how to execute your first trade.
Let's take a look.
How does Football Index work?
As mentioned, there are two main ways to make money with Football Index.
The first is through basic market mechanics, which dictate that the value of a footballer's share can increase or decrease based on their efforts. In this way, the classic trader's approach of buying low and selling high can reap the best results.
However, you can also hold your shares and enjoy three different types of dividends: Media, Match Day and In-Play.
The Media Dividend pays out on the players who have garnered more press coverage than any other via UK online media sources. The players who top the media table earn yields, as shown in the table below.
The Match Day Dividend is derived from performances on the pitch, with points earned for goals, assists, tackles, clean sheets and so on. The best-performing players in a game week will secure dividend yields for their owners.
The In-Play Dividend is a further boost to a player's value based on their performances, though this is only valid for the first 30 days in which you own your shares of an individual.
The dividend per single share is as follows:
 In monetary terms, these dividend yields might not look all that exciting, but consider that this is per share – so if you invest heavily in a player that comes up with the goods, you can turn a nice profit.
Remember that Football Index shares don't have the volatility of other instruments you might trade. Their value certainly doesn't deteriorate as quickly as cryptocurrencies, for example, and so holding tends to be the smartest move.
In the rest of our Football Index explained series, we will look at the basic functions of how to manage your account – e.g. making deposits and withdrawals.
However, your first act now should be to think about ways that you can really make Football Index work for you. What trading strategies will you apply?
How do I open an account with Football Index?
As you can probably imagine, Football Index has made it as simple as possible to open an account.
Just follow these steps and you'll be in business:
1) Head to the homepage at https://www.footballindex.co.uk/.
2) Click on the green 'Join Now' button.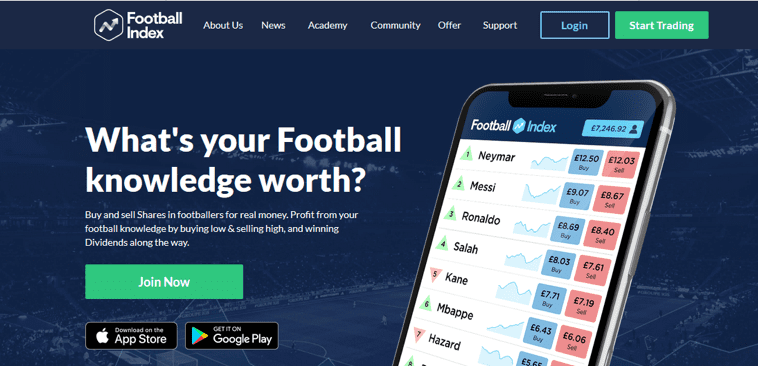 3) Fill in the information on the sign-up page: email, phone, country of residence, etc.
4) Once your account is live, feel free to have a play around before making a deposit.
5) Remember to enter any bonus codes that you may have here.
6) Once your deposit has been approved, you can begin trading!
Don't forget, you can access your portfolio from a wide range of devices, and if you are a prolific mobile user, then the dedicated apps will allow you to monitor your trades in quick fashion.
How do I navigate around my account?
 As soon as you have registered a new player account, you can start to become familiar with the layout of Football Index.
You will see links taking you to various pages of the site, and the two that we recommend you visit are 'Academy' and 'Game Rules.' That way, you can protect your investment by knowing exactly how to make money with no surprises further down the line.
We highly recommend that you take the time to read up in these areas, because they will undoubtedly help you to make better trades rather than simply diving in with both feet on the most 'famous' of players.
When you are comfortable with the rules and have made your first deposit – easy to do from your dashboard – you are ready to begin buying shares in your first players.
Simply select the 'Stockmarket' option to get going.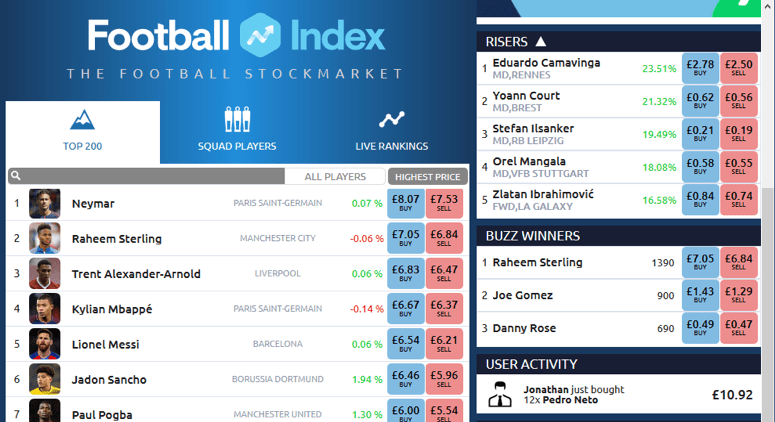 In the main section of this page, you can see a list of all the players who make up the Football Index market.
The players are ordered based on the highest price in our example, but you can easily change this to your own parameters.
Just click on the grey 'highest price' button, and then select one of the following options:
Highest Price
Lowest Price
£ Increase
£ Decrease
Goalkeepers & Defenders
Midfielders
Forwards
Automatically, you are on the Top 200 players section, but you can easily switch to Squad Players by clicking on the relevant icon.
On the right-hand side, you can see 'Buzz Winners', which is a ranking of the players who are most likely to win that day's Media Dividends.
The 'Risers' block refers to the players who have enjoyed the biggest increases in value in the specified timeframe.
How do I buy and sell players?
After searching through the player listings, hopefully you will have found somebody who appears to be a value proposition.
Click on their player profile, and you will see something like this:
You can see the individual's share price listed, as well as your account balance. Using the + and – sliders, you can purchase as many shares as you want between 1 and 300.
When you have chosen your amount, you will see the buy price listed in blue – hit this button to complete the transaction. If you just want to save the hassle and buy 300 outright, then tap the 'Buy Max' option.
Either way, the player will be added to your portfolio.
When you decide that you want to sell up, you have two options:
Instant Sale
Join the Sell Queue
To complete an instant sale, click on the player you want to sell in your portfolio.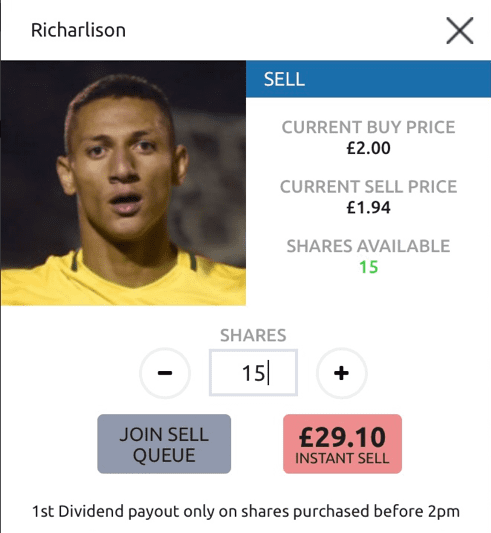 You'll see the player's current buy and sell prices, and how many shares you have. Select the number that you want to sell, and the pink 'Instant Sell' will show how much you will earn.
The sell queue option is kind of like selling something on eBay. You can trigger the sale of your shares in a player at a reserve price you are happy with, but, of course, you will need to wait until a buyer comes along before the transaction is completed.
Is there a Football Index app?
There are two specific apps for Football Index, and these are available for both Apple and Android devices.
The Football Index app Android is designed and built to offer an exact replica of the main website, albeit optimised for smaller screens. All of the key functions can be performed using the menu button, and buying and selling shares is as easy as you might expect from an app designed with tech-savvy bettors and traders in mind.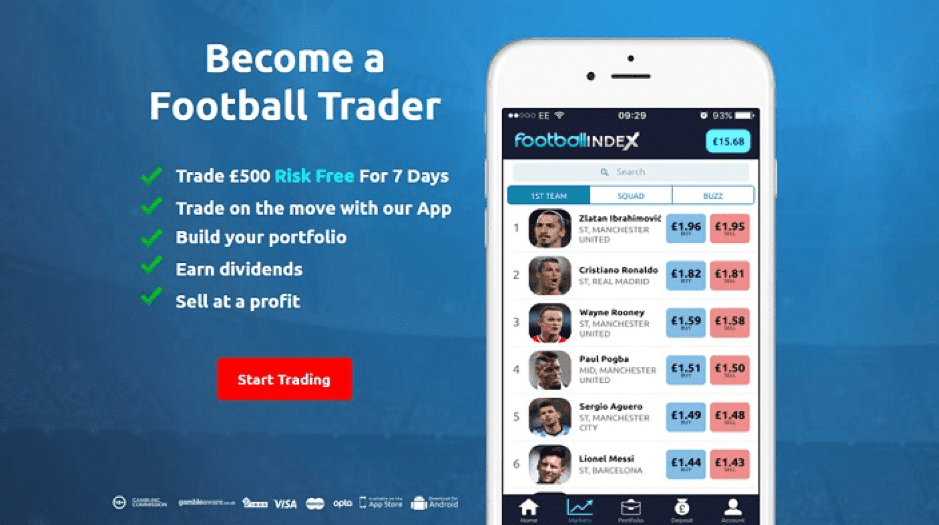 The same principles apply with the iOS app, which you can download from the App Store directly to your iPhone or iPad. You can trade and manage your portfolio with ease, and any sign-up offer or bonus you may have earned can be triggered via the app.
Whether you download the Football Index Android app or the iOS version, you are taking all of the good points of this excellent platform with the benefit of being able to action trades at your fingertips.
Conclusion
If you are completely new to the concept of Football Index, then you may be a little confused about how the mechanics of this world-first 'market' work.
Not to worry: you can always visit the brand's Academy page, where all of the answers await you.
Hopefully, this guide on how Football Index works has given you a decent overview of why you should strongly consider giving the 'game' a go. Whether you come from a trading background and are looking to add a new asset class to your portfolio, or you are a sports bettor wanting to try a new way to make your love of the beautiful game count, Football Index ticks both boxes.
It's quick to join and simple enough to master, and – as long as you do your homework – it's an easy platform to maximise your chances of turning a profit from.
PEOPLE WHO READ THIS ALSO VIEWED: