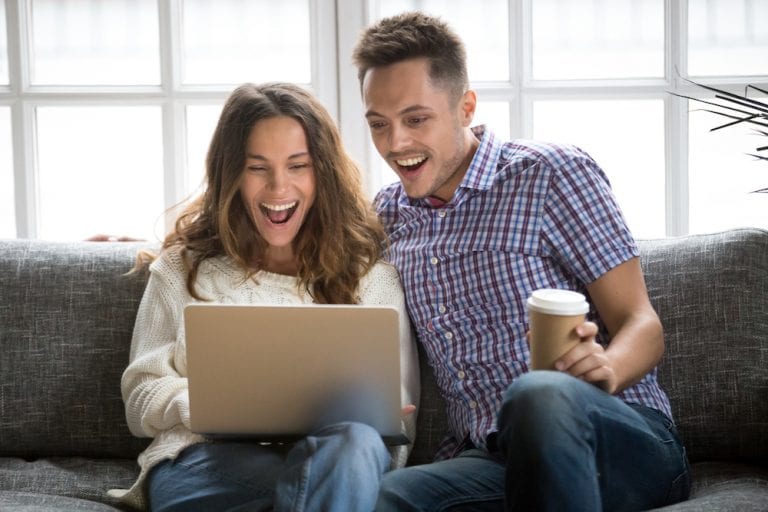 A major development in the sports betting world in recent years has been the rise in prominence of online betting exchanges. They sit midway between a traditional online bookmaker and a financial trading broker, combining all the fun and excitement of live sports with the strategy of online trading.  One of the biggest players in this space is Betfair, which is an online betting exchange owned by Paddy Power and Betfair, following a recent merger between the two industry giants.
What, exactly, is a betting exchange though? And how does Betfair work?
In this brief guide, we will give you a concise overview of how to use Betfair. From opening an account, navigating the website, and placing a bet, we will cover it all from start to finish! Getting to grips with a new trading platform can often be a daunting experience, but this doesn't need to be the case. With that in mind, keep reading to get the lowdown on how to get started with Betfair!
How do I open an account with Betfair?
Opening an account on the Betfair Exchange website is a relatively simple affair.
To start with, simply make your way to the front page of the Betfair website, and navigate to the 'Log In' box in the top right-hand corner.
If you don't have an account, click the 'Join Now' button, which is located to the right-hand side of the log-in box.
Once you have clicked on this, you will then be taken to the account creation section of the website. Here, you will be required to input some personal details, such as your name, email, address and other verifying information, which is then submitted and processed.
With this information processed, you will then be asked to comply with an email verification process, as well as to complete some 'Know Your Customer' tasks to fully process your account.
In all, the account creation process is very straightforward and can be completed in minutes. Once you have created your account, you can then turn your attention to figuring out how to use the platform and to begin to place some bets.
How do I navigate around my account?
One of the most dreaded aspects of getting to grips with a new trading platform is that initial period of uncertainty and frustration that we all face when we switch to a new platform. Finding your way around online trading platforms can be difficult at the best of times, and it isn't helped by the sheer volume of information you need displayed at once. From personal account information to market data, there can be a huge amount of data displayed on your screen at once. Often, this makes it difficult to navigate around your account, and you might find yourself relying on pure luck to find what you are looking for!
Thankfully, this is not the case with the Betfair platform. It is immediately clear that the designers at Betfair have put a lot of effort into making the platform as usable as possible. Thankfully, this allows you to avoid having to google 'How to use Betfair exchange' or 'How to use Betfair' as a last resort! But how exactly do you navigate your Betfair account?
Once you have found your way to the Betfair homepage, your first port of call is to log into your account using the log-in box located at the top right-hand corner of the page.

Once you've logged in, you will have access to all your account options. To access your account details, simply hover over the 'My Account' text box, and then select 'My Betfair Account.' This section will give you the option to view all your relevant account details and to amend anything if need be.
If you want to view your previous betting history and activities, navigate to 'Betting Activity.' This allows you to view all the previous bets you have made using the platform, including information on the date that the bet was made on, and the prices you bought in or out at.

If you want to start making bets and trades, simply select the 'Exchange' tab. This opens up the live Betfair Exchange, which displays live market information on all trades and sports games currently underway. From this section, you can filter by sport or wager type, and select what trades you want to make.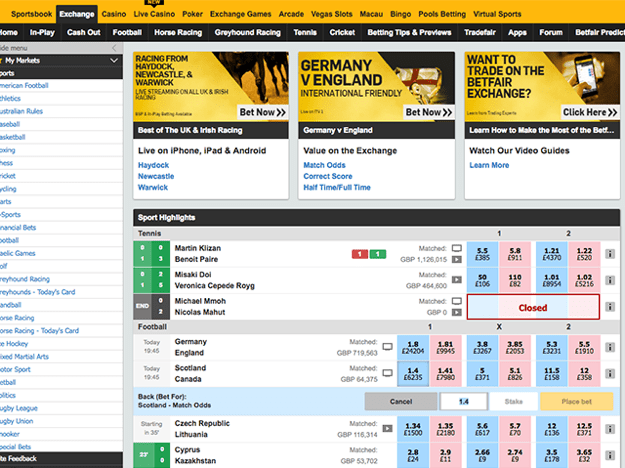 How do I place a bet?
Once you have your bearings and have figured out how to navigate the Betfair Exchange website, you can then begin to think about how you actually place a bet. But how does Betfair work? And is lay betting on Betfair explained?
First of all, it should be noted that Betfair makes a comprehensive FAQs section available for all users of the platform. This does a great job of explaining the basics behind the platform and how betting works. To find this, simply navigate to the 'Help' section located at the top left-hand corner of the front page.
When it's time to place a bet, head over to the live exchange. This gives you access to all the potential bets available to wager on at that particular moment.
To place a bet, you click on either 'back' or 'lay' next to the selection you are interested in. Once you've appreciated the odds being offered, you then choose your minimum stake and enter that in the text box. At this stage, Betfair will display the potential profit you could make if the wager comes good.
If you are happy with these odds, stakes and potential profit, then click submit and the wager will be processed.
For this to happen fully, however, the bet you offer has to be matched with another customer – in this case, meaning another player who thinks that the opposite outcome will happen to you. When submitting a bet offer, you can select the bet to be returned as unmatched, partially matched, or matched in full.
Once bets are matched, meaning that they are matched by someone else, you do not have a fully confirmed bet yet. If nobody matches it before the market closes, then you will get your wagered money back. Unmatched bets stay open on the market until they are matched or you decide to close and cancel them.
If you are struggling to have your bet matched, you can either change your odds slightly in the hope that someone might pick it up, or you can open up a new position completely. You might need to do this as the market prices fluctuate.
Is there a Betfair app?
With Betfair explained, we can now move on to considering the best way to actually use the platform.
As with most other similar platforms out there these days, Betfair offers users both desktop and mobile versions of the platform. Although for the most part, both versions of the platform give users the same features and trading options, there are some slight design differences between the two that may make one preferable to the other. This mainly relates to the layout and design of the mobile app, which is much more condensed when compared to the full desktop version of the website.
If you do want to take your trading on the go, you have two main options available.
Firstly, Betfair provides a dedicated mobile version of the website, which can be accessed through your mobile web browser of choice. This is a nice alternative to the dedicated mobile app, as it gives you instant access to a scaled-down version of the desktop website, which is perfectly suited for a smaller device without having to download a separate app.
Secondly, if you do prefer to have access to a standalone app, you can download this for both Android and iOS devices through the relevant app store. The standalone app is a good option for mobile device users as it is more streamlined for a small-screen real estate.
Conclusion
As you can see, there is quite a lot of information to take in when you are getting started with a new trading platform. At times, there can be quite a lot of information to process, not to mention all the new trading features to get used to.
Ultimately, however, this doesn't have to be an off-putting process. As we can see, Betfair has done everything within its power from a design perspective to make these processes as simple and straightforward as possible.
If you are having some trouble getting to grips with the platform, however, then this guide should give you a good start. Although new trading and betting platforms can be intimidating, this doesn't necessarily need to be the case. Bear in mind the tips set out above, and you should be locking in trades within a matter of minutes!
PEOPLE WHO READ THIS ALSO VIEWED: