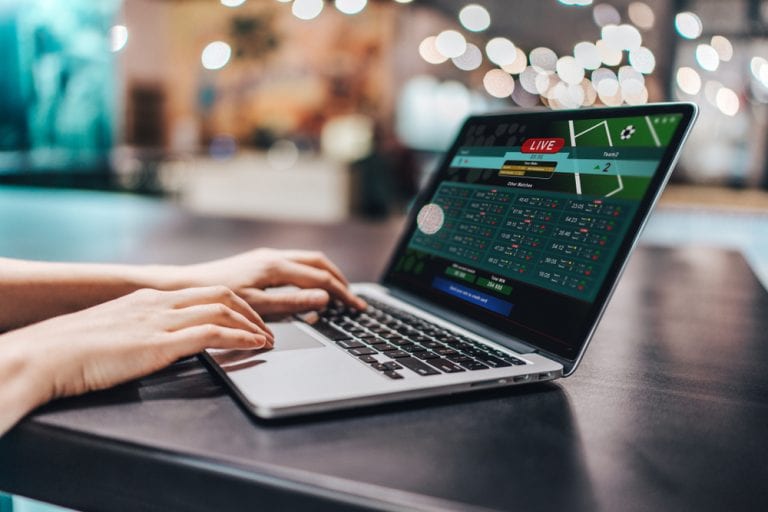 Smarkets is a UK-based betting exchange that has grown over the past decade to become one of the industry-leading platforms in the sector. Offering players the ability to place and lay bets against other users on a peer-to-peer basis, it is mainly known for its reputation in sports markets but also has plenty of other areas of interest. These include current affairs, TV and politics. With a low commission taken against successful bets and no other hidden fees on Smarkets deposit methods, there is good value for money to be found here, especially in comparison with its main competitor, Betfair.
In the UK, Smarkets is regulated by the Gambling Commission, and the company also falls under the umbrella of the Malta Gaming Authority, which means that it is operating under strict guidelines to which it has to adhere.
What is the minimum deposit?
Depending on which method you choose, there is a minimum deposit as low as £10, which carries no extra fees or charges. This means that Smarkets deposit options offer great opportunities for anyone looking to try a betting exchange for the first time.
Visa debit cards, Solo/Maestro cards, Visa credit cards and Mastercard/Eurocard all come with a £10 minimum deposit, while e-wallet option Neteller carries a £20 minimum, though Skrill has a £10 minimum level. A traditional bank transfer also comes with a £10 minimum Smarkets deposit.
Visa debit deposits are processed immediately, with withdrawals being processed within one to six business days. The same applies to Solo/Maestro, Visa credit card and Mastercard/Eurocard deposits.
Neteller deposits are processed within a few minutes, and it's the same for Skrill, with both processing withdrawals within one to two business days.
Bank transfers fall into two categories, namely Open Banking deposits and manual bank transfers. Open Banking deposits are processed instantly, and Smarkets recommends using a mobile device for the best deposit experience.
Processing times for manual bank transfer deposits are within three to five business days, and withdrawals are processed within five to 10 business days.
Smarkets will only accept deposits that are made in the designated currency that you set for your Smarkets account.
What deposit methods can I use?
With Smarkets offering a number of different methods, several with different levels of minimum amounts attached to both deposits and withdrawals, there is a good range of choice for users.
As none of the methods incur any extra fees or charges, it really comes down to which one might be a personal preference in terms of convenience or other criteria.
The popular and widely used options of Visa debit, Solo/Maestro, Visa credit, Mastercard/Eurocard and bank transfer are all available to make a Smarkets deposit, and e-wallet options Neteller and Skrill are increasingly popular with many users of betting exchanges.
How do I make a deposit to my Smarkets account?
It's easy to make a deposit on Smarkets, and this step-by-step guide will show you exactly how to do it in no time at all.
If you want to use the Smarkets website or app, it is very straightforward.
After navigating to Smarkets online and setting up your account, you then simply select the deposit icon on the right-hand side of the site to go directly to the deposit page.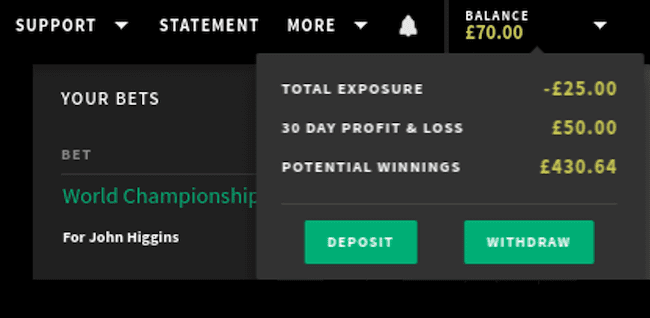 When you arrive at the deposit screen, you can then select the payment method of your choice, whether that is a credit or debit card, e-wallets Neteller or Skrill, or a bank transfer.

There are prompts for information, including the amount that you would like to deposit – the minimum amounts vary depending on which payment method you choose to use.
After you have entered your deposit amount, you will be redirected to a secure payment provider to enter further details to complete the transaction. When the payment has been successfully processed, you will then automatically be returned to the Smarkets site.

Making a deposit by bank transfer is just as easy, but this should be completed through your online banking. You can find all the details you need to do this via the references provided on the 'Bank Transfer' tab. You can also have this information emailed to your account.
A deposit limit can be set up easily by customers by using the options displayed on the settings page.
Are my funds protected?
Smarkets is a holder of gambling licences issued in both the UK and Malta, and therefore comes under the jurisdiction of the UK Gambling Commission (UKGC) and Malta Gaming Authority (MGA).
A UKGC licence holder must abide by various rules and regulations, including a requirement to ring-fence player funds so that they are completely separate from operating funds. This avoids problems that could occur for users if the company became insolvent.
Transport Layer Security (TLS) and Secure Sockets Layer (SSL) protocols are used by Smarkets to protect transactions, which means that the exchange is one of the most secure platforms operating in the industry.
Conclusion
Smarkets is now one of the leading players in the peer-to-peer betting exchange industry, and the simplicity that it offers to users is a big factor in its popularity.
As well as offering access to markets such as politics, current affairs and television alongside the established core sports-based ones, the ease of use in making deposits is another big reason why so many customers choose the platform.
Both the mobile app and the website offer great usability for first-time users, and although it wasn't the first on the betting exchange scene, Smarkets is now undoubtedly leading the way forward.
PEOPLE WHO READ THIS ALSO VIEWED: