Key points:
Boohoo is London's most shorted share
BOO profits are down 90% in the interims
The shorts are right so far but what happens next?
Boohoo (LON: BOO) shares are down 14% in London this morning on the back of the interim results – which show profits declining by 90% compared to the same period last year. As we've noted before BOO has been London's most shorted share for some time now – and on these results it looks like the shorts were right. On the other hand Citadel has gone long 5% and more of Boohoo, as has a part of Fidelity. So perhaps there's a more complex story here? The Boohoo interims don't decide this for us, unfortunately, it's still necessary to weigh the evidence and try to come to a view.

Those results are not, as we've said in that headline, good. Of course, the correct definition of profit is what the accountant wants it to be but the reported numbers are down that 90%. "Adjusted profit before tax (H1 2023) £6.2 (H1, 2022) £63.8 (percentage change)-90% (H1 2020) £51.9 -88%"
The 2020 numbers are there, of course, to give us a guide as to what was happening before lockdown. And we do need to take note of those earlier figures because that's where the decision is about whether Boohoo was some flash in the pan or not? Are we looking at a structural change in the online fashion world or some cyclical issue to do with lockdown? Or, perhaps even more importantly, we know that both are going on but which side of that divide does BOO lie on?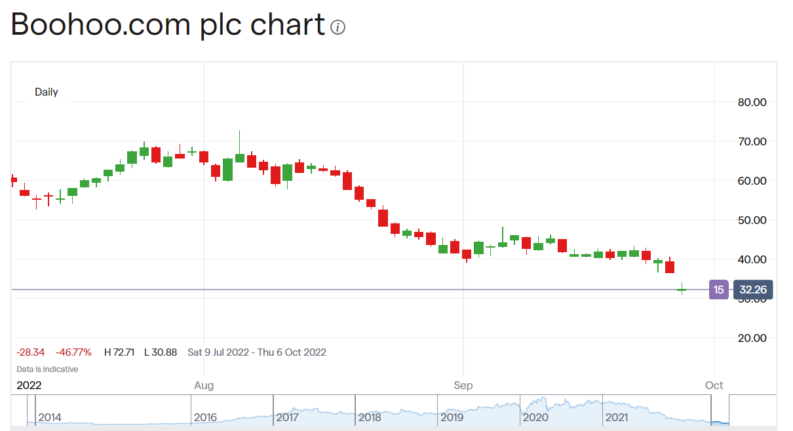 Also Read: A Guide To The Best Clothing Stocks To Buy Now
Online has been eating physical retail for a couple of decades now – for the past decade at the pace of about 1% of retail spending per year. That's a structural change – then came lockdown. That bite soared by perhaps 10% – 10% of all retail, not just 10% of the starting point – on the basis that if all the shops are closed then what do we think is going to happen? The big question then becomes, well, how much of that will stick?
Some thought that this was an advance on that structural change – others that it was merely a cyclical advance which would recede on opening up. As it turned out it did recede – according to the Office for National Statistics online sales as a percentage of all retail are back to trend – as if lockdown never happened. Advancing at that 1% of the market each year.
Some companies were grossly flattered by that leap upwards and now are moribund – we can make a little list if we'd like (umm, Revolution Beauty, Made.com come to mind). But is this true of all? Which is exactly what the Boohoo question is.
For at BOO sales are still up on pre-lockdown. Sure, profits have collapsed but that could be management simply not having the cost base properly rightsized. They thought the boom would continue, it didn't, so the cost base is wrong. But that's something solvable – well, maybe.
Which is where opinion comes in and that opinion should determine trading positions. Is Boohoo suffering something solvable, a cost base that needs to be managed back down to sales? Then growth will resume? Or is there a structural problem with the very idea of selling fast fashion online?