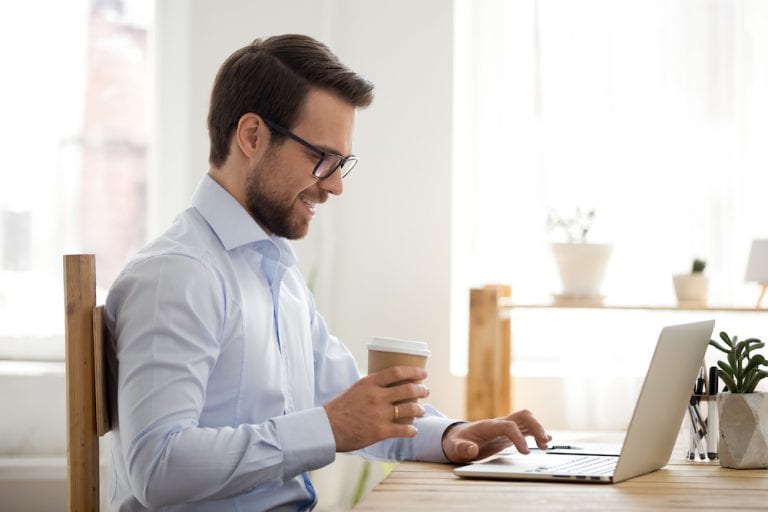 One of the most exciting developments to have emerged from the world of betting in the last couple of years has been the rise of online betting exchanges. Existing as a crossover between a traditional sportsbook betting website and an online trading platform, betting exchanges allow users to place bets and trade with each other in a dynamic, real-time environment. Betting exchanges couple all the exciting live action associated with live sportsbook betting with the high rewards of online trading platforms. For this reason, well-known players such as Betfair have managed to carve out a unique space for themselves in the online trading market.
However, getting started in this unique world can be slightly intimidating for new users, particularly as the main websites might not always be the most user-friendly, and there can be numerous obstacles to hurdle before you can actually get started trading.
One of the most immediate of these is topping up your account, which must be done properly before you can begin to place bets and trade on the exchange. Although it might seem like a fairly straightforward process, there are actually quite a few steps involved in this, and it might end up taking you longer than you first anticipated.
Given the sensitive nature of the information you are dealing with when topping up your Betfair account, it is a good idea to fully familiarise yourself with the process before doing so. This ensures that you can fund your account without risking any personal or financial information.
In this short article, we will provide you with a thorough overview of all the steps involved in setting up and topping up your Betfair account from start to finish. We will pay particular attention to the Betfair exchange deposit methods and any Betfair minimum deposit amounts. This will help you to get set up and start trading as efficiently as possible!
What is the Betfair Minimum Deposit?
Minimum deposit by payment method:
| | |
| --- | --- |
| Payment Method | Minimum Deposit |
| Debit Card | £5 |
| PayPal | £5 |
| Bank Transfer | £10 |
| Skrill | £10 |
| Neteller | £12 |
What deposit methods can I use?
As you might have expected from a platform of Betfair's size, a number of options are made available for users to top up their account.
Deposits can be made using traditional payment cards such as Visa and Mastercard. Additionally, Betfair also supports Visa-Delta, Switch, Solo, Electron and LaserCard. When making a deposit using a Visa or Mastercard debit or credit card, you may be required to undergo the 'Verified by Visa' or 'Mastercard SecureCode' security authorisation processes. Generally, there will be no fees for debit card transfers. However, credit cards may incur fees depending on your provider.
Betfair also accepts deposits made by cheque. However, clearing times may be slightly longer, depending on the country of origin and postal times.
Bank transfers are possible using Betfair's network of bank accounts, with a number of bank accounts available depending on which region the funds are being transferred from. Bank transfers will be subject to a processing time of two to three working days.
Betfair deposits may also be made using Western Union, which is a quick and easy way to electronically send payments from around the globe. It should be noted, however, that Western Union transfers will typically attract fees.
Transfers are also possible using online money transfer services, with PayPal a particularly popular choice. Neteller and Skrill are also options if you have an account with them. As with any e-payment service, however, you need to keep an eye on whether any Betfair deposit fees have been added! It is also important to bear in mind that there may be Betfair deposit limits on certain payment types, so be careful to work within these limits or your deposit might get rejected!
How do I make a deposit to my Betfair account?
First of all, it should be noted that while the majority of users make a Betfair deposit when they have just opened an account, this is not necessarily a requirement. Betfair makes it possible to add funds to your account at a later date if you would prefer.
If you do want to make a deposit when you first sign up, however, the steps involved are fairly simple.
Firstly, you will need to create an account with Betfair. Once you have set up, registered and verified your account, you will then be able to add funds to it. To do this, simply log into your account using the log-in box at the top left of the page.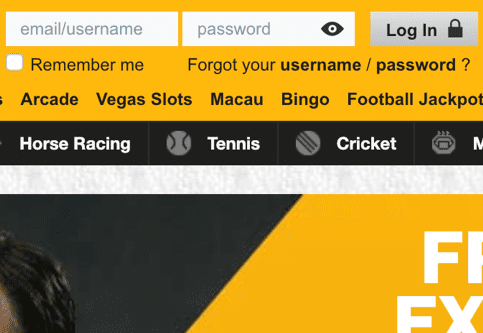 Once you're logged in, you should have access to the 'Deposit' tab, which is located at the top right of the page, just beside your account details. If you click into this tab, you get access to all the various deposit methods: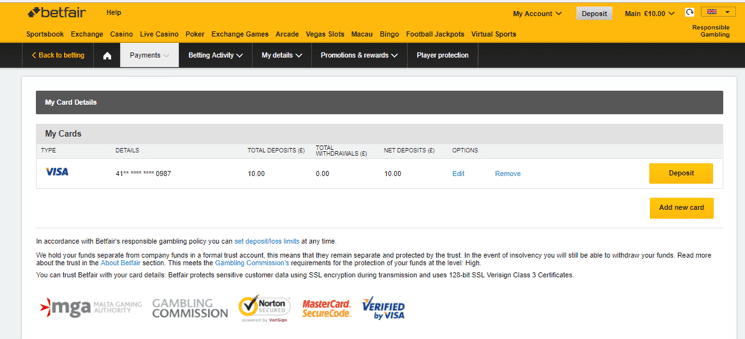 If you want to top up using a credit or debit card, for example, you will then be required to select this option and to input your card details as normal. When this happens, you will see a pop-up window that looks something like this: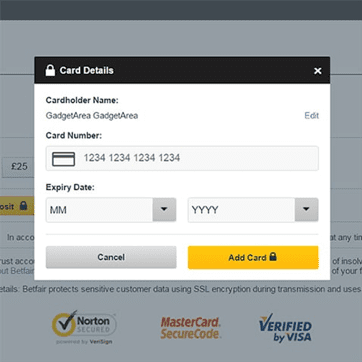 Once you have input all the details properly, you will then be able to submit the transfer and wait for it to hit your account!
The process is largely the same regardless of what deposit method you use. All that will be different is the actual information you are required to put in. However, the prompts and process will essentially be the same.
Are my funds protected?
Given that you are dealing with sensitive financial information when you are using Betfair, it is a good idea to have a sense of just how well-protected your funds are.
When it comes to customer safety, however, Betfair is one of the leaders in the market and has a number of processes in place to ensure that customer accounts are protected to the highest degree possible.
Firstly, the sign-up process itself has several safety features built into it, such as identity verification and 'know your customer' compliance protocols. This protects your account from the get-go and greatly reduces the risk of identity fraud or theft.
Secondly, Betfair also provides a number of safety features for customer accounts such as secure log-in processes, strong customer authentication, and two-factor authentication. This is great to see, and gives customers extra peace of mind.
Beyond these safety features, Betfair also has one of the most secure websites out there. The various online safety authentication certificates are displayed at the bottom of the site. This is great to see, and really gives the impression that Betfair is trying to be an industry leader when it comes to customer protection!
Conclusion
After you have gone to all the effort of creating an account and verifying all your information, it can be incredibly frustrating when you run into issues making deposits to your trading platform of choice. When it comes to making deposits to your Betfair account, however, the process couldn't be smoother!
It is clear that Betfair takes customer security very seriously, and security checks are built into every step of the process to ensure that you are fully protected when you make a deposit.
The process of making a deposit to Betfair is relatively simple, and within just a couple of short steps, your account should be up and running. If you want to make this process as efficient as possible, online payment transfer services are possibly your best option as they provide the fastest processing time compared to bank transfers. Credit and debit card transfers are equally quick, though they may be subject to additional fees and have to be linked to your bank account.
Having said that, no matter what method you decide to use to make a Betfair deposit, the process is simple, safe and secure!
PEOPLE WHO READ THIS ALSO VIEWED: