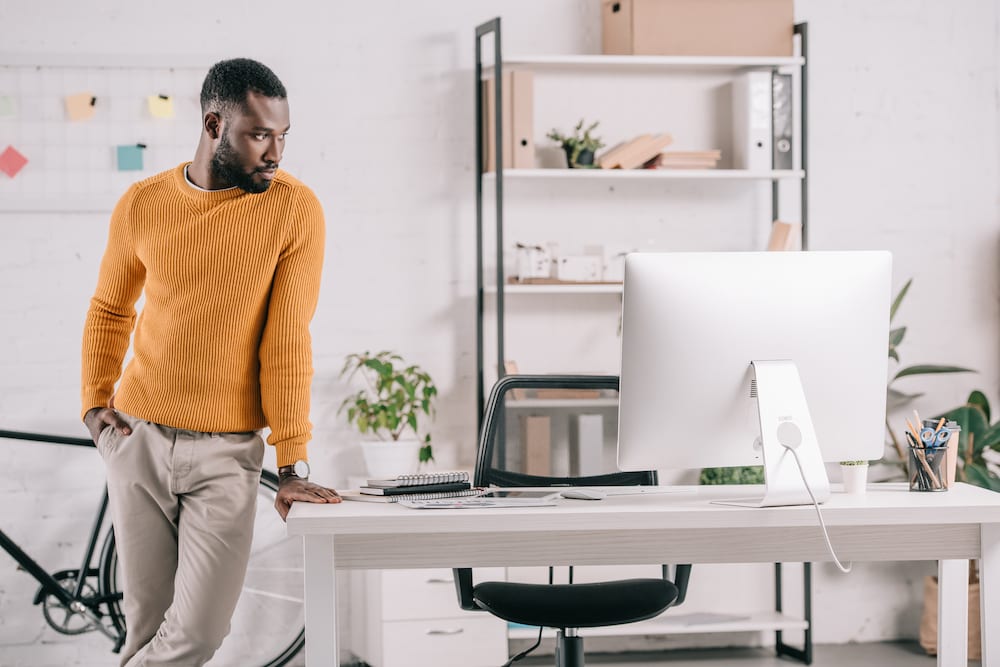 After finally getting to grips with the platform and making some (hopefully very profitable!) trades, you are more than likely very keen to withdraw your funds from the platform so that you can put them to good use.
However, this can often be easier said than done. At times, it feels like some of the most popular trading and betting platforms out there have been designed to make it as confusing as possible to actually get your funds off the platform!
This need not be the case, however. In this brief guide, we will give you a thorough overview of exactly what you need to do to get your money off the Betfair platform.
When the excitement of a winning trade is coursing through you, it can often be difficult to focus long enough to figure out what steps you need to follow! This need not be the case though, and in the future, all you will need to do is carefully follow the steps set out in this guide. With that said, continue reading and we will show you how!
How do I make a withdrawal from my Betfair account?
As with everything else on the Betfair website, withdrawing from your account is a relatively simple affair, and it is clear that the development team has put a lot of effort into ensuring that the process is as straightforward as possible. In fact, for the most part, it is exactly the same process as depositing to your account, though the final destination of the money is different!
To get started, navigate to the top right-hand side of the website and simply log into your account as normal.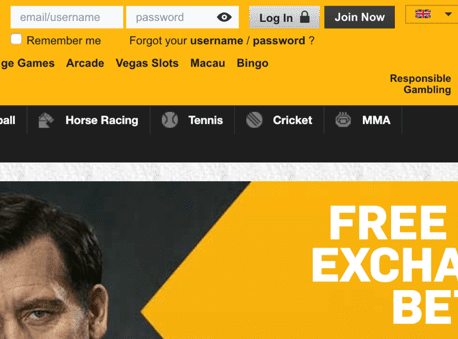 Once you are fully logged in, you will then get taken to your account homepage, which gives you access to all the withdrawal and deposit options.
Next, navigate down to the 'Payments' tab. This is where you can choose to either make a deposit or withdraw using one of the listed methods.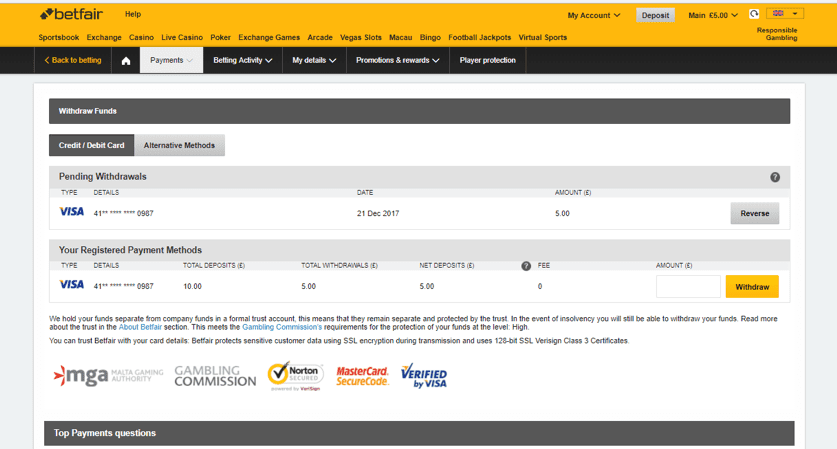 Once you are in this section, you will be given two options: withdraw to a credit/debit card, or withdraw using alternative methods.
Of these, the credit/debit card is probably the easiest and most commonly used method. If you have deposited using that particular card before, your details should be saved to the website already, so you won't have to fill them in again from scratch. If you want to withdraw to a different card, you simply fill in your details once prompted and click 'Finish' to process the payment.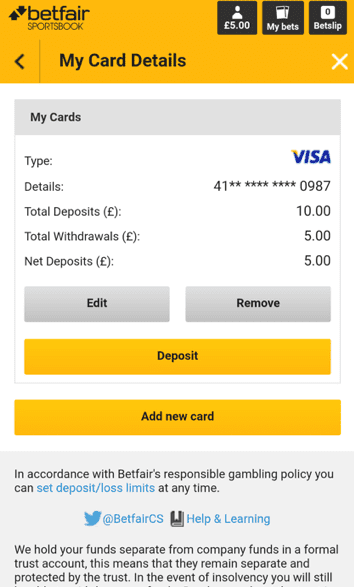 If you don't want to withdraw using a credit or debit card, click on the 'Alternative Methods' tabs and you will then get presented with a number of alternative withdrawal methods. Some of these are e-payment methods such as PayPal, Neteller and Skrill, while others will be via bank transfer or Western Union. The process for the alternative methods is much the same as it is for the credit/debit cards. Simply enter your details where prompted and click 'Finish' to process the payment.
Within this section of the website, you will also be able to access the transaction history for your account, which is a quick and easy way to keep track of what you have deposited and withdrawn from your account in the past.
It is also important to remember that, for compliance purposes, your Betfair withdrawal will be tied to the method you have used to deposit it. For example, if you deposited to your Betfair account using a Visa debit card, those funds will have to be withdrawn to that specific payment debit card. This is a protection measure to ensure that if your card had been stolen and used without your consent, those funds couldn't be transferred to anyone other than you. This adds an extra layer of customer protection to the withdrawal process.
How long do Betfair withdrawals take?
Having figured out how to set up the withdrawal using your method of choice, you will likely be wondering how long Betfair withdrawals take.
As a general rule, the length of time it takes for the funds to hit your account will depend on the particular method you have used. Processing times vary quite a lot between payment types, so it is useful to bear these in mind when it comes to making a deposit or a withdrawal.
If you use a debit or credit card, your Betfair withdrawal time will vary between two working days at the earliest, and five working days at the latest.
In contrast, express bank transfers can be made within the same working day if you submit the claim early enough, or by the next working day if you make the request in the afternoon. For express bank transfers, however, there will generally be an extra charge associated, so this is important to keep in mind. If you opt for a regular bank transfer, this will typically take two to three working days to process. Additionally, it should also be noted that if you choose to transfer to a bank account outside the UK or Ireland, this will typically add to the processing time by a couple of days, with the exact length of time depending on your local bank's processing times.
Transfers to electronic payment services such as Skrill, PayPal, Neteller, WebMoney and Qiwi are the most efficient withdrawal methods, and will typically take between 12 and 24 hours.
A full table of transfer times can be viewed below, which should provide a comprehensive answer to the question, 'Betfair – how long to withdraw?'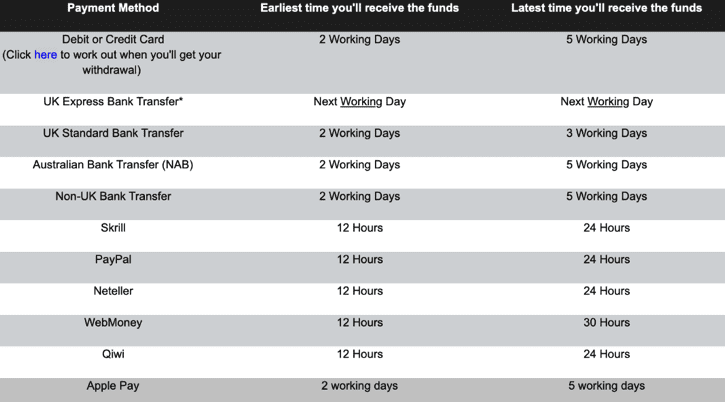 What are the withdrawal fees?
Once you've answered the all-important question of 'How long does Betfair withdrawal take?', you will probably be asking yourself what sort of fees will get charged to your account.
However, there is no easy answer to this question, and whether you get charged fees or not will depend entirely on what method you choose!
For example, if you choose to make a withdrawal using a UK Express Bank Transfer, you will get charged a small fee that will be added to the transaction automatically.
If you choose to withdraw funds using a credit or debit card, Betfair won't charge any additional fees itself. However, your card company might.
For e-payment services, you generally won't get charged an additional Betfair withdrawal fee, though the third-party service may do so. Neteller, Skrill and PayPal won't charge any additional fees for withdrawals, though they might be subject to some transfer limits.
How do I cancel a withdrawal?
Whether or not you can cancel a withdrawal that has been submitted to process will depend entirely on the type of withdrawal method you have used, and how long ago you made the withdrawal request.
For example, if you have withdrawn to a card, you can cancel the card withdrawal before it has been processed by Betfair.
If you have chosen to withdraw to a bank account directly and it hasn't been fully processed, you may be able to request Betfair to cancel the withdrawal.
Other methods may or may not allow you to cancel them depending on the speed that the withdrawal typically takes. For e-payment services, you won't be able to cancel the transfer, as the time they take to process is simply too low. It is also important to remember that you can only cancel withdrawals that are marked in your account as still 'Pending.' If the withdrawal is marked as complete, you will not be able to cancel it as it has already been fully processed. You can access this information by going to the 'Payments' section of the website, within the 'Withdraw' tab.
What happens if I have issues with my withdrawal?
If an issue crops up with a withdrawal, it is advisable to get in contact with the Betfair customer service team immediately. You can do this through the 'Contact Us' section of the Betfair website, which will take you through to a live chat feature on the website.
Once you get connected to a member of the customer support team, simply tell them the issue you are having, and they will advise you accordingly.
Conclusion
The world of online betting and gambling has undergone some rapid transformations over recent years. New entrants in the market such as Betfair have revolutionised the industry by providing players with a cross between a traditional bookmaker and an online trading exchange. This new style of trading has proven a hit among fans of both traditional online trading and sports betting.
The model that Betfair uses gives would-be punters more control over their chances than ever, meaning that rather than having to take whatever odds are offered by the bookmaker, players can survey the market and choose what prices they want to buy or sell at. By diversifying your positions like this, you increase your chances of success and help to protect yourself from any potential losses.
However, Betfair doesn't just offer a product that is good in theory – when it comes to the actual usability of the platform, Betfair more than delivers. From setting up your account and making that first deposit, to finally withdrawing some of your profits, Betfair has clearly put a lot of effort into making the process as smooth and usable as possible. The withdrawal process is straightforward with no hidden surprises, and is the perfect platform for both new and old users alike.