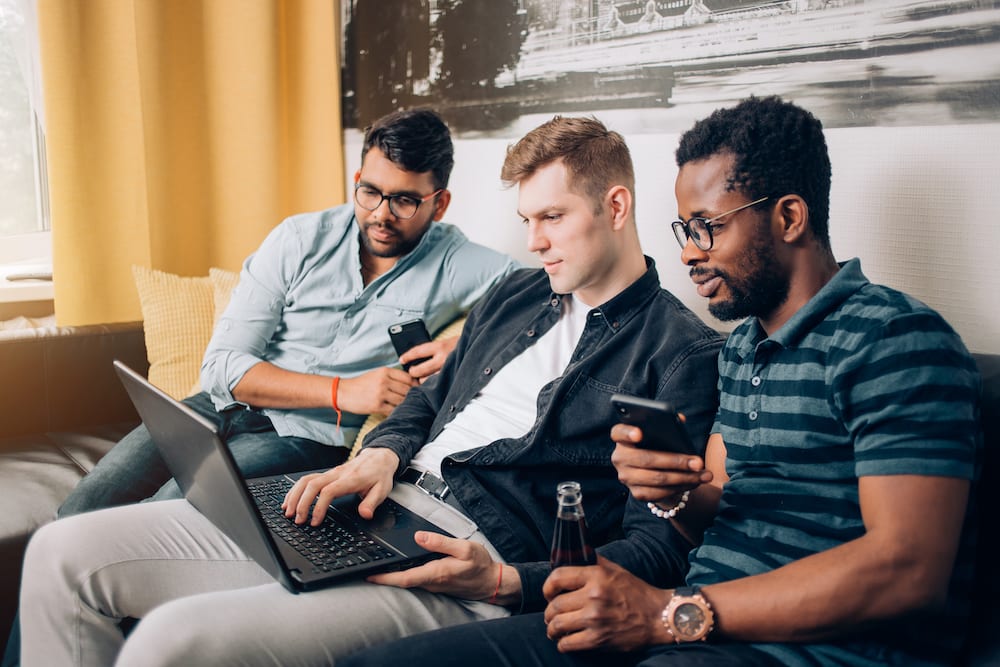 In the last number of years, online betting and gambling websites have moved on from the traditional sportsbook format we are used to, into new, more tech-savvy territory. As part of this, we have seen a new type of sports betting platform emerge: the online betting exchange.
This exciting new format blends the excitement of live sports with the strategy and analytical side of online trading, to offer a unique take on sports betting. Online betting exchanges act like a cross between a live exchange and a bookmaker, which allow individual users to place bets on the predicted outcomes of sporting events on a live market, which then get picked up by other users of the platform. Instead of placing a bet against the bookmaker themselves, with online betting exchanges your wagers get picked up by other users on the live market. If you lose, they get your money. But if you win, they pay you out. In this sense, we can see how the excitement of live sports are blended with the strategy of online trading. But how exactly do these platforms work?
In the past, if you wanted to figure out how to use one of these new platforms, you might have found yourself frantically googling phrases such as: "How to trade on Matchbook?" and "How to use Matchbook?"
This doesn't need to be the case, however. In this short guide, we will give you a thorough overview of how to use the Matchbook platform. From opening your account, finding your way around the website, and eventually placing a bet on the live markets, we will cover it all! Getting used to a new trading platform can sometimes be a frustrating experience. However, this doesn't need to be the case. Keep reading to get the lowdown on the Matchbook platform and how to get your betting account up and running.
How do I open an account with Matchbook?
Getting started on the Matchbook platform and opening a new account is, thankfully, a relatively easy process.
To start with, all users have to do is navigate to the main page of the Matchbook website and click on the login box located in the top right-hand corner.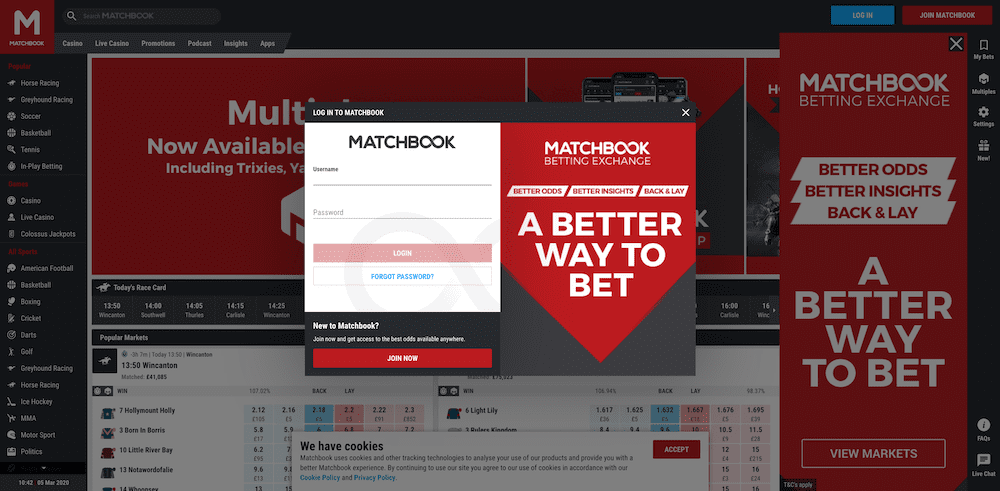 Once there, click on the "Join Now" button, which will take you through the account creation process. This is the first step in getting up and running with Matchbook.

From there, all you have to do is enter the account details you hope to use with this Matchbook demo account. At this stage, you can also enter in any bonus code or promotional offer you might have, which will give your new account a bit of a bonus.
The next steps entail verifying the email account you have linked to this Matchbook account, so once the verification email gets sent to you, click on the link included in the email to verify your account.
Once this information is processed and your account is created, you may be asked to comply with a further verification process to fully setup your account.
Once this is done, you will be able to make deposits and withdrawals from your account.
Overall, the account creation process is very straightforward. Generally speaking, it should not take you more than five minutes to create an initial account, although the identity and account verification processes might take slightly longer.
With this done, you can then turn your attention to using the platform itself and, hopefully, begin placing some bets!
How do I navigate around my account?
Whenever we are faced with getting to grips with a new trading platform, there is inevitably a sense of frustration at not being able to find our way around the website. This is made worse by how often betting exchanges overwhelm the user with information, which has the effect of confusing the platform user and making it difficult to find what you what, when you want it.
From personal account information to market data, there can be a wide volume of information to be displayed on screen at one time, making it a nightmare to navigate!
When it comes to the Matchbook platform, however, this is not the case at all.
The design team at Matchbook have clearly put a lot of effort into ensuring the website is as easy to use as possible. This means it is a great choice for new users who do not have much experience using betting platforms. Even immediately after you have opened your Matchbook demo account, you should be able to navigate the platform with relative ease.
But how exactly do you find your account?
Once you have logged into your account, simply select the "My Account" text box which will give you instant access to the various options you might need. From here, you can explore your personal details, account information, and check whether your payments have been processed.
This is also where you can find the deposit and withdrawal options, which is perhaps the most important information contained here!
How do I place a bet?
Once you have gotten your bearings and are comfortable navigating your account, the next step is to begin placing bets on the live market.
Take this quick quiz to help us find the best path for you
Less than 1 min to do
1) Before you place any bets, make sure you actually have sufficient funds in your account to do so. The Matchbook platform won't let you make wagers with a negative account balance, so please ensure you have sufficient funds to cover this.
2) If you do have enough funds to place a bet, you will then need to decide if you want to take up some bets on the exchange or to do some "lay betting." Lay betting is essentially where the individual plays the bookmaker and offers odds to sell a bet instead of to back a bet.

3) If you want to take up odds that have been put out there by another punter, select the "Back" option, if you want to do some lay betting, click on the "Lay" option.
4) Once you have clicked on this, the betting slip will then open up which will allow you to enter the actual amount you want to wager. Enter this amount and click on the green arrow to submit it. The Matchbook platform will automatically calculate what your expected return will be.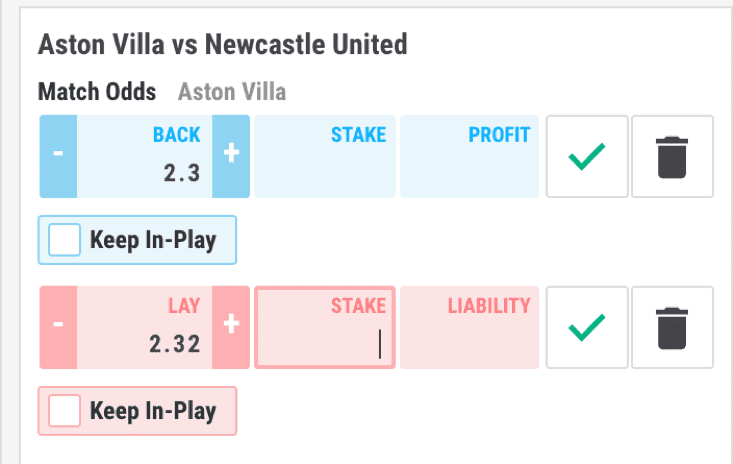 5) Once this has been submitted, for matched bets you just have to wait for the game to play out and see if your odds come good. For lay bets, where you put out the odds on the exchange, you have to wait until they become matched. If not, you will have to resubmit another bet.
How do I trade out?
Trading out of a bet on Matchbook is a relatively simple process. If you decide you want out of a particular lay bet, so long as it has not been matched, you can cancel the wager at any time.
Unmatched bets remain on the live market until they get matched, the person setting them cancels it, or the market closes. As such, you have until the bet matches to trade out.
To do this, you can either simply place a bet that runs counter to the initial wager you place, or open up the "Bet slip" and select the "Cancel" option in the "Unmatched bets" tab.
Is there a Matchbook App?
For players using the platform on mobile devices, a mobile version of the Matchbook app can be downloaded to either Android or iOS devices.
If you do want to get access to the Matchbook mobile platform, simply download the Matchbook app from either the Google Play Store or the Apple App store. Once downloaded, login using your account details and set up the app to your desired preferences.
A mobile version of the Matchbook site is also available, which can be accessed via your mobile web-browser. However, it is recommended to use the standalone mobile app.
Conclusion
As you might be able to tell, there is quite a lot involved in getting set up on a new platform such as Matchbook. Between creating and setting up your account, to getting used to the live betting exchange, this can often be an overwhelming process.
However, this need not be the case, as the Matchbook platform is designed from the ground up with ease of use in mind. This makes it a great platform for new and seasoned users alike.
If you are still having some issues getting to grips with the Matchbook platform, this guide should get you off to a good start. Matchbook is one of the leaders in the betting exchange space, so it's well worth putting in the time and effort.