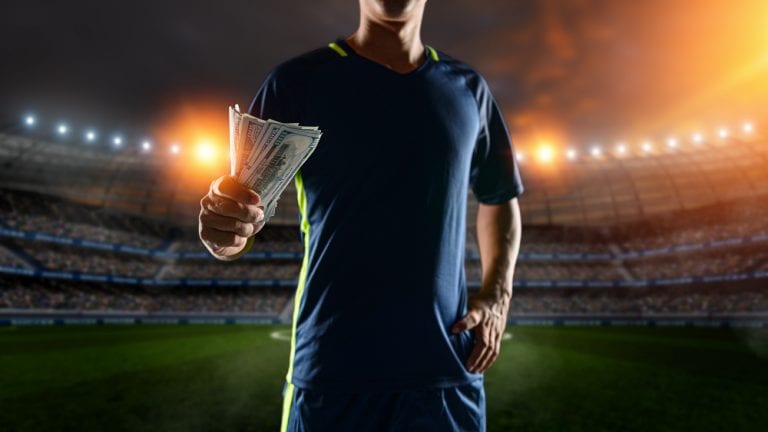 How to use Smarkets
The UK-based betting exchange Smarkets platform publicly launched almost 10 years ago and, in that time, it has become one of the leading players in the betting exchange industry.
With a peer-to-peer model that concentrates on key markets rather than diversifying into add-ons such as slots and casino games, the company has kept a clear focus. As well as core sports markets, there are also opportunities to place and lay bets on other areas such as politics, current affairs and television shows.
One of the reasons why Smarkets is so popular is the approach that the company takes to being user-friendly, its simple and transparent fee structure, and the ease of use provided by the clear design and clean functionality on its app and website.
Smarkets is regulated by the UK Gambling Commission and so operates under strict compliance guidelines. A sign of its success is that it has processed transactions worth more than £5bn since it began public trading.
How do I open an account with Smarkets?
Opening an account with Smarkets is an extremely simple and straightforward process that only takes a few minutes.
This step-by-step guide shows you exactly how easy it is:
To create an account with Smarkets, you first need to navigate to the sign-up page and then enter an email address, which will also be your new username. The email you supply must be an active one as it will be used to verify your account.
After choosing a strong and memorable password, you need to enter your date of birth and choose the currency you want to use for your account.
If you have a referral code from a promotion, you enter it here, and then you simply agree to Smarkets' terms and conditions, privacy policy and cookie policy by clicking on the 'Continue' button.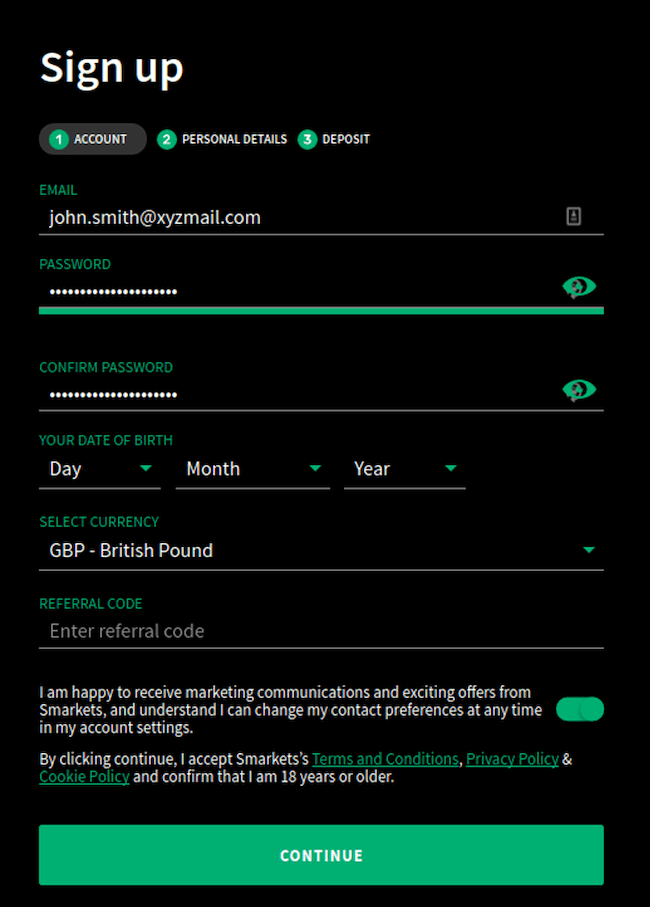 Now, there will be a prompt to enter your first name, last name and contact details.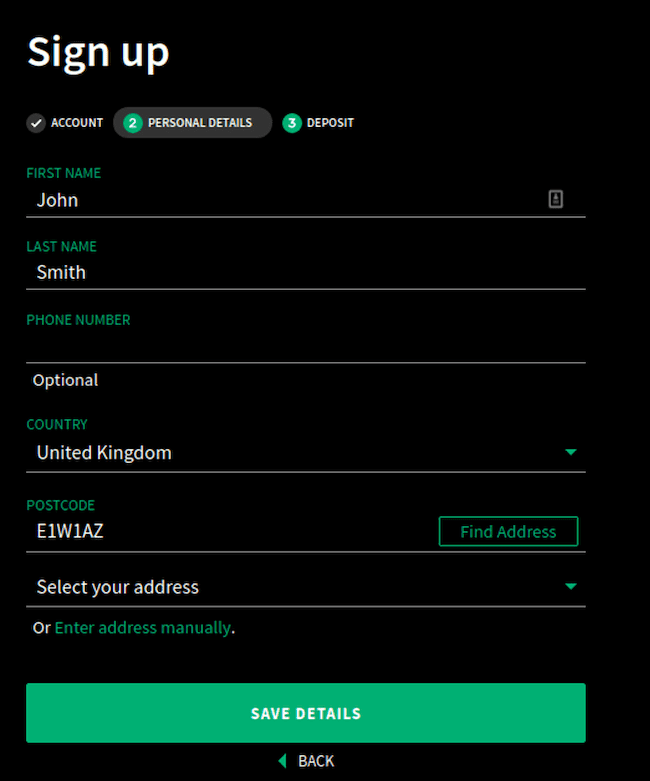 The account will now be created, and you can then make your first deposit – it's really that simple and straightforward, and as long as you have all the obvious details to hand, it only takes a few minutes.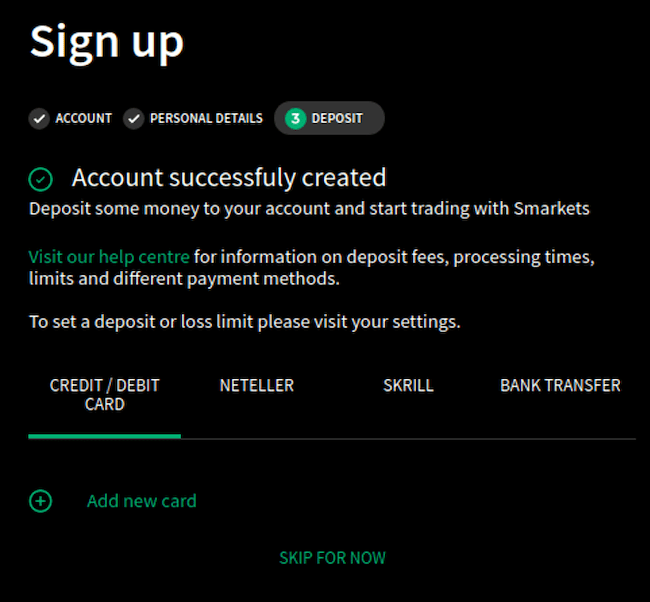 Email verification must be completed before you can make your first deposit. This is done by logging into Smarkets through a hyperlink that is included in the welcome email that you receive once you have set up your account.
Account verification is required as Smarkets operates under strict regulatory compliance lines, and this includes the identity and address of all users. Wherever possible, Smarkets uses electronic methods to do this, but this will not affect your credit rating or be logged on credit files.
In the event of your new account not being able to be verified electronically, Smarkets will ask for photo ID and proof of address.
How do I navigate around my account?
When you log in and go to your account page, you can find a list of all bets made and other historical activity, including all the transactions that have taken place.
There are also two filters that can be used to make things even clearer, and these are the Transaction filter and Timeframe filter.

To apply a filter, you simply click the dropdown menu, which can be found at the top of the page.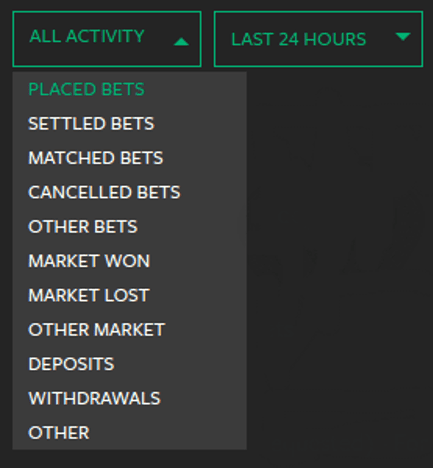 Now, you can select the filters you want to use – you can even choose multiple filters.
Finding out what your 'running balance' is couldn't be easier, as your balance before exposure to current bets has been taken off is displayed clearly. This figure may be different from the 'available balance' shown at the top of the page, and your account page balance minus your exposure will equal your available balance.
When you place a bet, your account page confirms the time stamp of each stage of the process. This makes it easy to see when a bet was placed and when it was matched.
This screenshot shows a typical full lifecycle of one bet:

How do I place a bet?
To place a backing bet (for a particular outcome), you select odds in the green box, and you will win this bet if that outcome occurs – i.e. a chosen football team wins a match.
The odds in the box 'price' will be selected, and you can then adjust the odds and the stake to your own specifications.
The potential return is given before the bet is placed.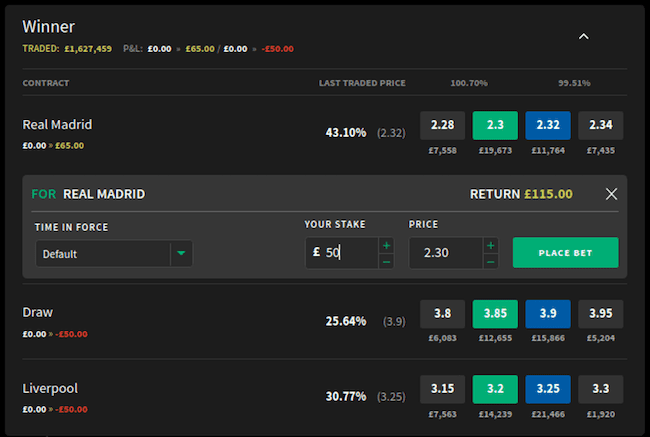 Placing a lay bet follows a similar process and entails placing a bet against an outcome happening, such as a particular football team not winning a named match, which can, of course, include a drawn result.
The current odds are again automatically selected and can be altered to suit your own choice. You simply enter a 'back stake' under the default settings, and you are then shown both a potential return and a liability.
The 'back stake' is the winnable amount and the 'liability' is the sum you will lose if your bet is unsuccessful.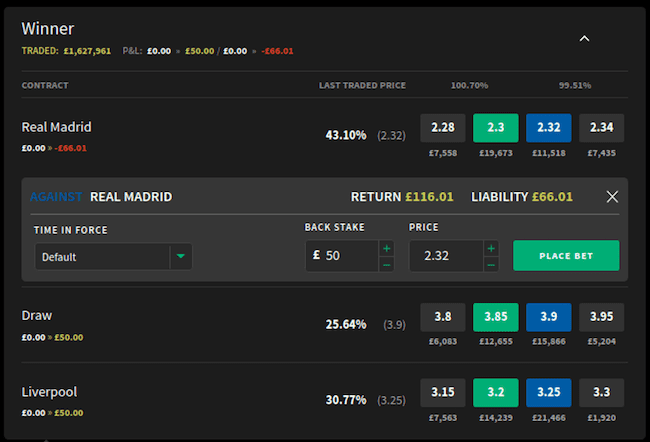 If there are no odds currently available, an option to 'make offer' will be displayed instead, and you can then place a bet into the market, select your own odds, and see if another player is willing to match it.
In-play bets can be made on markets that are not managed by Instant Match and will be subject to a betting delay. This allows eight seconds before it is actually placed and ensures that users are not able to game the system by taking advantage of faster feeds or courtside betting facilities. After the delay period ends, the bet will become valid.
How do I trade out?
Trading out on Smarkets is similar to hedging on stock markets as it involves placing a bet on the opposite outcome to a bet that you have already taken out.
The reasons for doing this can include locking in a profit, reducing exposure to losses, or cancelling out a bet that has been previously matched on the same market.
The 'hedging calculator' can be used to either back or lay a new bet depending on the initial bet and is done by simply entering the original stake and the decimal odds of the existing bet followed by the opposing odds available on your selection.
If you have bet on a different exchange, you can enter the commission and the hedging calculator will display the amount you should either back or lay in order to guarantee your market position. This will then follow on no matter what the result or outcome of the bet will be.
Smarkets' trade out button allows you to make the necessary calculations without any fuss and then to lock in a profit or cut a potential loss in both pre-game and in-play scenarios.
Is there a Smarkets App?
Yes, there is a Smarkets App, and it is one of the reasons why the company is so popular with betting exchange users.
Smarkets develops its software in-house, and this means that instead of generic off-the-shelf solutions, it actually comes up with results that are designed with users in mind. The mobile app is a perfect example of this customer-focused approach, and it highlights the ease of use by making the most of an intuitive and straightforward functionality.
The app is available free for both iOS and Android users.
Conclusion
Smarkets differs from some of its closest rivals significantly in the way that it operates, with the simplicity of its revenue model transparently based on a flat 2% commission taken on winning markets being a big factor.
However, the company's approach to making sure that customer interactions are a priority can be seen in everything it does, from its simple online processes through to the multiple ways that users can get in touch.
The attention to detail that both the mobile app and the website show makes Smarkets a perfect choice for novice betting exchange users, and the £10 minimum deposit available from most payment options is also a big bonus attraction.
Although Smarkets appeared quite late on the scene in relation to some of its rivals, there is no doubt that it is now one of the leading players in the industry and is well placed to become even more popular in the future.