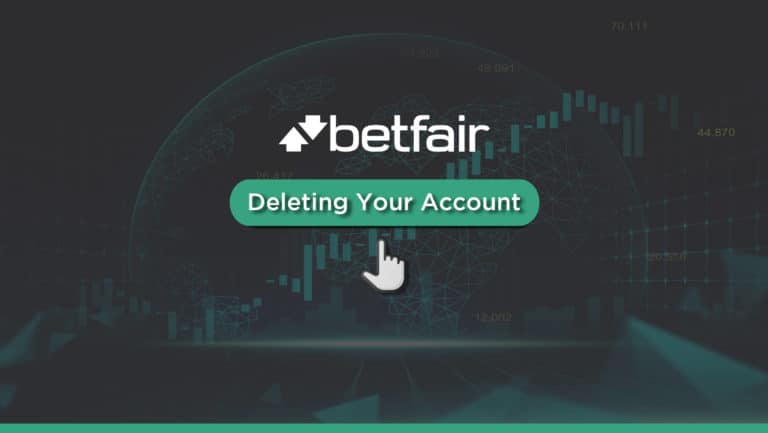 Regardless of your exact reasons for stepping away from Betfair, however, the process involved will still be the same no matter what the circumstances. So you're probably considering how to close your Betfair account? Is it simply a matter of googling 'Betfair close account' or 'Betfair delete account' and hoping for the best? Or is there more to it than that?
There is quite a lot to think about when you make the decision to close your account. In this brief article, however, we will be able to clear up some of the confusion about how exactly you go about closing your account with Betfair. It aims to provide you with a one-stop shop so that you don't have to go endlessly searching through the Betfair terms and conditions until you finally stumble upon it!
Keep reading below and we will show you the following:
How to Close a Betfair Account?
How to contact Betfair's customer service team
How to find Betfair's terms and conditions
The pros and cons of using Betfair as your betting platform of choice
Why closing your Betfair account may or may not be the right decision for you
Before we get started, take a look at our other Betfair guides:
How to Close a Betfair Account?
To close your account, you will need to get in touch with Betfair's Customer Service, who will assist you in deleting your account.
Betfair only allows you to have one account. Thus, you need to remember that closing your account means you will not be permitted to open a new one at a later date. However, you can choose to re-open your closed account.
Additionally, Betfair offers several options for closure. You can self exclude from Betfair – for either a minimum of six months, one year, three years or five years, or permanently. The platform will also provide options, including limits and time-outs.
Time out enables you to take a short break from gambling, restricting your account from placing bets for 24hrs, 48hrs, seven days, 72 hours, or 30 days.
Self-exclusion means that your Betfair account will remain closed for a minimum period of six months, one year, three years, or five years and will not be reactivated under any circumstances during the exclusion period.
To self-exclude, select 'My Account' from the drop-down within the Header of the site, select 'Account Details,' select 'Player Protection,' and select the 'Self Exclusion' option. It is also possible for you to restrict your access to individual Betfair products.
From here, you have the option to set a six month, one year, three years, or five-year self-exclusion. Alternatively, Betfair's Customer Service can set self-exclusion for you.
How do I contact customer services?
When you finally make a decision and want to get in contact with Betfair customer services, the process is relatively straightforward.
Once you have logged into your account and you find yourself on the homepage of the Betfair website, simply navigate to the small 'Help' tab located in the top left-hand corner of the site.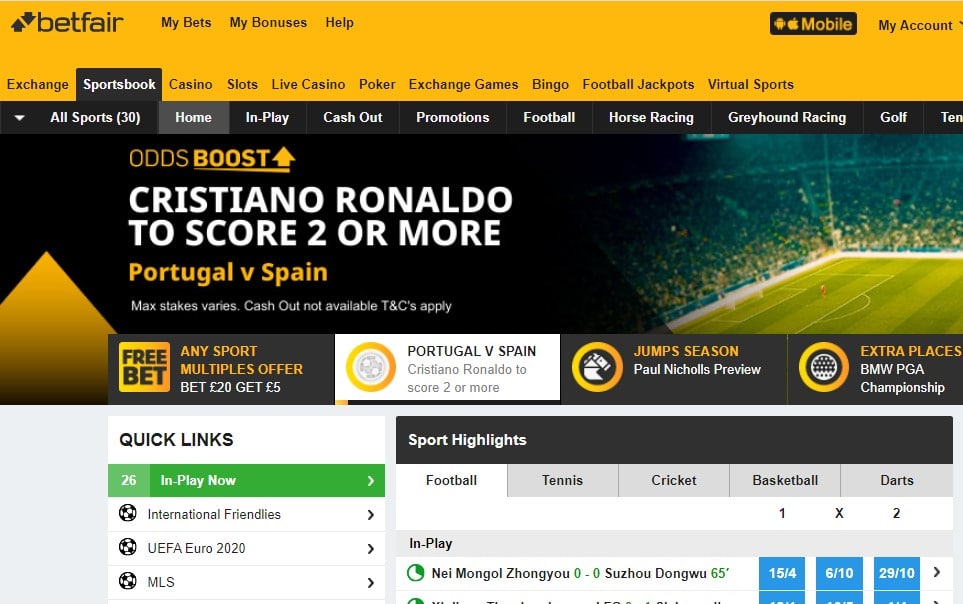 Once you have clicked on this, you should be given access to a range of frequently asked questions that will help you narrow down your search. You will also be able to select the 'Contact Us' tab, which takes you straight to the Betfair customer service number and the Betfair customer service email.
You will then be given a range of customer support options depending on the nature of your query, such as 'Login/Registration Help' or 'Games Help.' Of these, the best option to choose is the 'Help with something else' option at the very bottom of the list, which is the best place to get help with closing your account.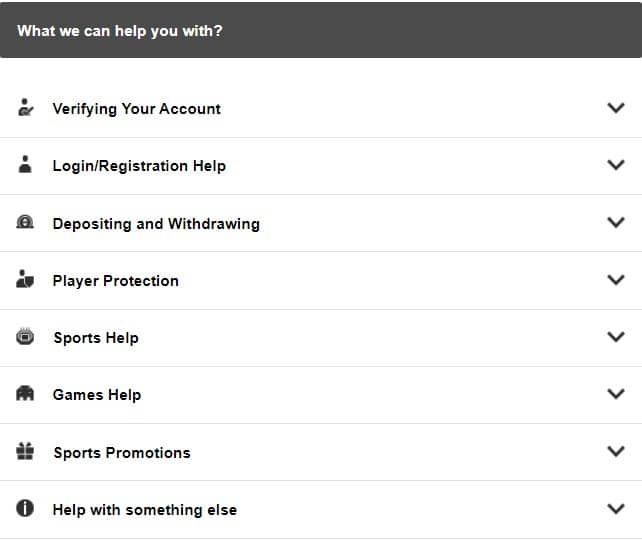 Once you have selected this option, you will be logged into a chat window – this will connect you with a customer support agent who can help you with your query. If asked what the nature of your query is, simply tell them that you wish to close your account and they can begin the process!
Currently, the only way to get in touch with Betfair's customer services is through the live chat feature set out above. Betfair does not have any other contact information listed on the website that we have been able to find. What this seems to indicate is that the majority of customer support is delivered through a live chat facility and helpdesk, rather than over the phone, as with some other popular platforms.
Whether this is a better option compared to a live phone line will entirely depend on you. While chat facilities often work just as well in terms of accessing support, it is nice to be able to talk to an actual human when you have a query!
In general, we have found the customer service to be incredibly responsive to any queries we had. This is likely due to the fact that all customer help is delivered through a live chat feature rather than just over the phone. This means that customer support agents can field multiple customer queries at once, which significantly lessens the wait times.
We were not able to find a Betfair customer service email listed with the other contact details, though you might be given a personal one through the live chat feature once connected to a live help agent.
From scanning the reviews online, customers seem to have had generally positive experiences with Betfair's customer support team. Wait times do not seem to be as long as on other platforms, and feedback seems overall quite positive. Customer help is available in a number of languages, including English, Italian and Spanish, which is good to see.
Who Can I Trade With Instead?
Choosing your next broker will largely depend on the reasons why you chose to delete your Betfair account. If you are looking for a new platform then these are the brokers we recommend.
What are Betfair's terms and conditions?
As you might have expected, finding the Betfair terms and conditions does not present too many obstacles.
To find them, simply navigate to the bottom of the homepage of the website, which provides a quick link straight to them.

Once you have clicked on this, you will be taken straight to the full terms and conditions. Although this is a pretty lengthy document, Betfair customer service has included quick links and an index to make it much easier to navigate should you need to find anything specific.
If you know the relevant section where the information you want is located, simply navigate straight to that section. However, if you want to search for something specific, but you don't know where it is located, you will have to use a 'Ctrl + F' search. This isn't too much of a hassle, but it would be nice to see a dedicated search bar to make the process more efficient!
What are the pros and cons of the Betfair platform?
As one of the largest and most popular online betting platforms currently operating, there is understandably a lot that can be said about the pros and cons of Betfair. Much of this will depend on what sort of player you are, and certain types of players will naturally be more drawn to certain platforms over others.
In terms of the positives of the platform, the following are the most immediately obvious:
As one of the biggest platforms, Betfair has a very strong competitive position in the market. This means that would-be users are often given the best deals out there. Betfair can afford to be more generous with the bonus offers simply because its user base is so large!
When it comes to the design of the platform, Betfair is clearly a carefully constructed website. Although you have a massive amount of information at your fingertips, the website never feels cluttered. It is incredibly easy to navigate the website and, unlike some other platforms, you never get a sense of feeling 'lost' on the page. This makes it a great option for beginners!
Given that Betfair is a cross between a sportsbook and trading platform where users trade bets directly with each other, the size of the user base is going to be essential to getting the most out of the platform. With this in mind, there is simply no comparison between the range and competitiveness of the trades that Betfair can offer you compared to other platforms.
Unfortunately, however, no platform is perfect. With that said, what are some of the cons of the platform?
Although it might have a massive user base, sometimes the liquidity on offer can be less than stellar. Although this is a problem affecting most, if not all, of these sorts of platforms, we have found liquidity to be quite low at times on the Betfair platform.
When it comes to welcome bonuses, Betfair definitely makes a good impression. However, when it comes to the actual commissions charged on each trade, Betfair's standard commission charges can be a little high compared to other platforms.
With both the pros and cons considered, Betfair is without question a fantastic platform. Betfair does have a few minor issues, such as liquidity and the somewhat high commissions, which it would be good to see them improve on in the near future. Despite this, the overall experience of using the platform is second to none, and its position as one of the market leaders gives it a unique position to be able to offer one of the biggest user bases to trade with.
Should I close my Betfair account?
As you might have been able to tell by now, deciding to close your Betfair account is no easy decision. There are a lot of factors involved in making the final decision, and individuals are drawn to closing it for a variety of reasons.
Some users want to close their account only for a short time period, as a way of taking a break from the platform. This is relatively easy to do, with Betfair providing a number of timed exclusion periods you can put on your account. To do this, all you need to do is get in touch with the Betfair customer service team and request a timed self-exclusion on your account. These can apply for a minimum of six months up to a maximum of five years.
There are also other options available for Betfair customers, which don't necessarily involve closing your account permanently. In addition to timed exclusions, you can also request usage restrictions to be applied to your account, such as game limits and time outs. These are a great alternative to shutting down your account permanently and save you the hassle of reregistering if you decide to sign up again.
Ultimately, these are two great alternatives to shutting down your account for good. If you want to try these methods, simply get in contact with the Betfair customer service team, and they will guide you through the process. This is a fantastic example of the various options that Betfair makes available to users, which is testament to the flexibility and usability of the platform.
Further Reading